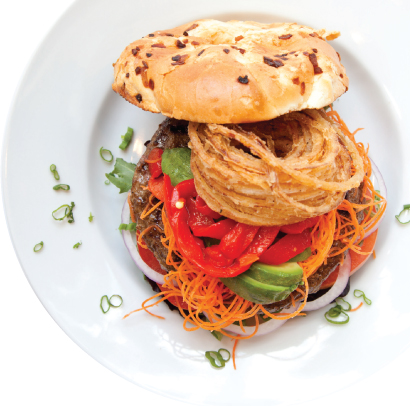 Dining
French
L'Auberge Chez Francois
332 Springvale Road, Great Falls; 703-759-3800; laubergechezfrancois.com
Great Falls welcomed Chef Francois Haeringer's Alsatian fine dining restaurant to the neighborhood in 1976. Now his sons, Jacque, chef de cuisine, and Paul, sommelier, continue to wine and dine patrons in a warm, romantic setting—offering cuisine such as La matelote de poissons à l'Alsacienne, sa sauce homardine (rockfish, salmon, shrimp, scallops and lobster with lobster sauce) and Les aiguillettes de canard, à la façon de L'Auberge (roasted breast of duckling with oranges, wild rice and a Grand Marnier sauce).  
Chinese
Peking Gourmet Inn
6029 Leesburg Pike, Falls Church; 703-671-8088; pekinggourmet.com
Peking Gourmet Inn continues to be one of the best northern Chinese restaurants in our area. Its specialty, of course: Peking Duck is one that is loved by the masses, including celebrities and politicians.  
Spanish (TIE)
La Tasca
Multiple NoVA locations; latascausa.com
Sitting al fresco or inside the beautifully decorated dining room diners can enjoy Spanish tapas and choose from 11 different Sangria styles—Sangria Blanca (sliced peaches, white wine, cinnamon sticks and peach schnapps), Cava Sangria (sparkling wine, grape juice and blueberries), Toro Rojo Sangria (Red Bull mixed with traditional red sangria) and Agua de Sevilla (sparkling wine sangria with pineapple juice and whipped cream), to name just a few.
Jaleo
2250-A Crystal Drive, Arlington; 703-413-8181; jaleo.com
Blame the small plate trend—is it even a trend anymore?—on Jaleo, which first brought the Spanish concept to the DMV. While many restaurants now offer dinner in bite-size portions, Jaleo still stands out for such simplicity as garlicky sautéed shrimp.  
Thai
Thai Luang
171 Elden St., Herndon; 703-478-2233; thailuang.com
Authentic Thai flavors dominate every dish (with the option of having it extra spicy). The extensive menu will satisfy everyone who dines; however, don't miss the restaurant's famous crispy duck with sweet basil leaves.  
Indian
Angeethi
Multiple NoVA locations; angeethiindian.com
This extensive menu hits on all the Indian favorites, from chicken bathed in tikka masala to chickpeas simmered for hours on end. And, Angeethi is dominating the Indian-cuisine scene, taking top honors for a second year in a row.  
Mexican
Uncle Julio's Rio Grande Cafe
Multiple NoVA locations; unclejulios.com
Margaritas, guacamole and a plethora of options are among some of the reasons Rio Grande is one of NoVA's favorites.  
Italian
Dolce Vita
10824 Fairfax Blvd., Fairfax; 703-385-1530; dolcevitafairfax.com
With copper pots hanging from the walls, Dolce Vita exudes old-world Italian charm, and offers homey pasta dishes to match.  
Korean
Honey Pig
Multiple NoVa locations; eathoneypig.com
Servers double up as cooks and create magical Korean barbecue dishes right at your table. Open late for night owls with pork belly cravings.  
Hamburger
The Counter
11922 Democracy Drive, Reston; 703-796-1008; thecounterburger.com
Become a chef at The Counter, and make your own dream burger—beef, turkey or chicken, topped with a selection of cheeses and other toppers including soft brie and fried eggs.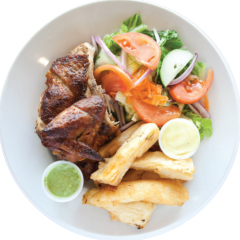 Peruvian Chicken
Super Chicken
Multiple NoVA locations; superchickentysonscorner.com
Enjoy juicy charcoal-broiled chicken paired with fried yucca and fried plantains, served with a mysterious-yet-delicious white sauce and a spicy green sauce. While rotisserie chicken is its specialty, Super Chicken also offers Mexican delicatessen and Argentinian alfajores.  
Kabob
Moby Dick House of Kabob
Multiple NoVA locations; mobysonline.com
Fast food and healthy never go in the same sentence unless, that is, if you are speaking of Moby Dick. Known for the "kabob-e-kubideh," which is ground sirloin seasoned with onion and herbs served with rice, pita and yogurt-cucumber sauce, this Metro-D.C. chain keeps serving up the goods in 15 locations across Virginia, Maryland and D.C.  
Gyro
Plaka Grill
110 Lawyers Road NW, Vienna; 703-319-3131; plakagrill.com
Combine the delicious French fries with the beef gyro, and the magical creation of the Plaka Gyro wows gyro lovers.  
Dim Sum (TIE)
Fortune
6249 Arlington Blvd., Falls Church; 703-538-3333
Chinese food is more than fried rice and greasy noodles; try an assortment of dim sum, such as steamed dumplings and some pork buns.
Mark's Duck House
6184-A Arlington Blvd., Falls Church; 703-532-2125; marksduckhouse.com
Carts fly by, loaded with small tins of tasty dumplings, crab balls, baked pork buns, roast suckling pig with the crispiest skin, noodles and fried taro. The flavors are worth the wait.  
Steakhouse
Ray's the Steak
2300 Wilson Blvd., Arlington; 703-841-7297; raysthesteaks.com
Ray's dominates the region's steak scene by offering unique cuts of meat, aged, butchered and trimmed in-house for prices ordinarily left to chain restaurants. Also served, gratis creamed spinach and mashed potatoes.  
Artisan Pizza
Fire Works
Multiple NoVA locations; fireworkspizza.com
A wood-fired oven chars eclectic pizzas, with toppings as varied as chorizo, meatballs and salami. The meatless eater can choose from equally intriguing cheeses and vegetables.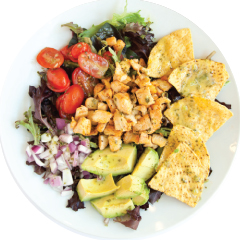 Salad
Sweetgreen
Multiple NoVA locations; sweetgreen.com
Locally sourced vegetables turned into a locally started salad empire as three Georgetown University grads created a hip counter for healthy meals, now with over 10 locations. The brand has recently expanded to auditory pleasure with its Sweetlife Food and Music Festival.  
Vegetarian
Sunflower
Multiple NoVa locations; crystalsunflower.com
Herbivores delight in a menu devoted to wide-ranging meatless options: soy protein General Tso, udon noodles with exotic mushrooms, veggie-filled sushi and a goji berry and avocado salad.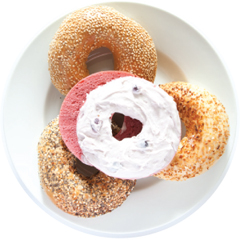 Bagels
Bagel Café
300 Elden St., Herndon; 703-318-7544; bagelcafe.com
Everything bagels seem boring with bright pink strawberry bagels in contention at Herndon's Bagel Café. Cream cheese also gets amped up with flavors as varied as bacon jalapeño cheddar to pumpkin.  
Fries
Five Guys
Multiple NoVA locations; fiveguys.com
Fries are more than potatoes dunked in oil. It's about seasoning, and Five Guys does the Cajun style right. Now this 1986 Arlington original is in every state in the country.  
Sushi
Hooked Seafood & Sushi 4
6240 Potomac Run Plaza, Sterling; 703-421-0404; hookedonseafood.com
A modern, chic sushi house offering creative flavor combinations alongside traditional sushi favorites presented in top-class style. Choose the prix-fixe dinner menu for sushi specials or to enjoy sushi among other seafood courses.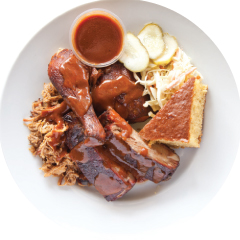 BBQ
Willard's Real Pit BBQ
4300 Chantilly Shopping Center Unit 1A, Chantilly; 703-488-9970; dcbbq.com
The hefty lunch crowd confirms that Willard's BBQ reigns supreme. Generous portions of juicy meats, comfort-style sides and an array of sauces—from sweet barbecue to flavored vinegars—has its regulars coming back for more.  
Wings
Buffalo Wing Factory & Pub
Multiple NoVA locations; buffalowingfactory.com
With over 20 sauce options to dress your perfectly fried wings, these finger food favorites come in 10-piece orders and are accompanied by celery sticks and the traditional bleu cheese or ranch dressing.  
Pad Thai
Tara Thai
Multiple NoVA locations; tarathai.com
These tender, flavorful noodles are speckled with bean sprouts and green scallions, and then dusted with crushed peanuts. Tara Thai's Pad Thai comes accompanied by a lime purse—a lime wrapped in netting—so the fruit's seeds can't escape.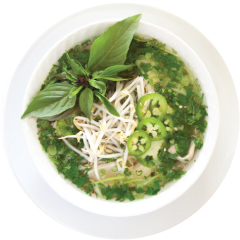 Pho
Pho 75
Multiple NoVA locations; pho75.tumblr.com
Served cafeteria-style at lightning speed, Pho 75 delivers with consistent, big bowls of flavorful broth and delicate noodles featuring all of the fresh fixings to mix in. Don't forget to bring cash.  
Frozen Treat
Nielsen's Frozen Custard
144 Church St. NW, Vienna; 703-255-5553; www.thecustardstore.com
Made fresh every hour, Nielsen's Frozen Custard brings patrons back to a simpler time and to a frozen treat with simpler ingredients—real dairy cream and eggs. The selection of flavors changes often offering a new experience almost any time you go.  
Cupcakes
Cupcakes Actually
11944 Grand Commons Ave., Fairfax; 571-522-6315; cupcakesactually.com
Simply Red is what the folks at Cupcakes Actually call their Red Velvet cupcake, but cupcake lovers call it simply delicious. This small cupcake shop in Fairfax Corner also offers dipped flavored cupcakes in a multitude of flavors (Going Bananas, Dipped Cherry, Apple Blossom).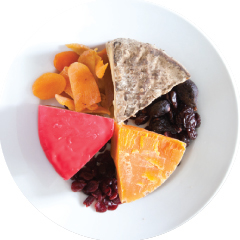 Cheese Shop
Cheesetique
Multiple NoVA locations; cheesetique.com
The sweet stink of cheese envelopes all who enter, where a selection of hand-picked artisan cheeses awaits. Wine and other cheese accoutrements are available, or enjoy a taste at the cheese and wine bar.  
Coffee House
Caffe Amouri
107 Church St., NE, Vienna; 703-938-1623; caffeamouri.com
One of the few small-batch roasters in NoVA and the only one in Vienna, Caffe Amouri carries a variety of beans from all over the world including Sumatra beans, which the cafe roasts for its Cubano Smoked Coffee.  
Breakfast
Amphora
Multiple NoVa locations; amphoragroup.com
Craving eggs Benedict or a gyro at 3 a.m.? Not a problem; Amphora is open 24 hours a day, seven days a week. Amphora also operates a bakery, which is the reason why you must end breakfast with a slice of cheesecake.  
Brunch
Clyde's
Multiple NoVA locations; clydes.com
Clyde's brunch menu offers something for the breakfast eater as well as the lunch diner. Traditional offerings are mixed with more modern flavor profiles in addition to the house favorite: Chesapeake Bay Rockfish.  
Brewery
Lost Rhino Brewing Company
21730 Red Rum Drive, Suite 142, Ashburn; 571-291-2083; lostrhino.com
With both alum and equipment from NoVA's previous landmark brewery, Old Dominion, Lost Rhino offers flagship brews pungent with hops.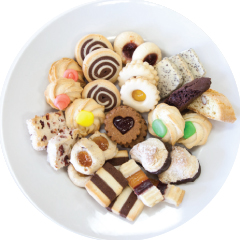 Bakery
The Swiss Bakery
Multiple NoVA locations; theswissbakery.com
This is a one-stop haven for all things sweets, offering artisan breads, pastries, cakes and European-style desserts. Working in an environmentally friendly bakery, high-quality items are prepared fresh daily.  
Food Truck
District Taco (storefront location)
5723 Lee Highway, Arlington; 703-237-1204; districttaco.com
For delicious food on-the-go, grab a few tacos or a burrito from District Taco. With succulent meats from carnitas to carne asada, check out where this Mexican food cart is going via their twitter: @districttaco.  
Butcher
Springfield Butcher
6310-B Springfield Plaza, Springfield; 703-245-0111; springfieldbutcher.com
Committed to providing the freshest meats and seafood, the long-standing Springfield Butcher shop offers pork, seafood, veal, beef, chicken, lamb and venison. All steaks are hand-cut. And, oven-ready entrees are also available for purchase.  
Farmer's Market
City of Falls Church Farmers Market
300 Park Ave., Falls Church; fallschurchva.gov
This year-round market provides NoVA with local, fresh products ranging from produce and meat to honey and soaps. The market's 2012 Chef Series brings in area restaurants to create seasonal recipes using farm-fresh ingredients.  
Kid-Friendly
Red Robin
Multiple NoVA locations; redrobin.com
Kids are welcomed with a colorful balloon at this popular burger joint. With nine delicious, kid-friendly options and playful burgers for adults, not to mention endless fries, this is a win-win situation for any family.  
Alfresco Dining (TIE)
PassionFish
11960 Democracy Drive, Reston; 703-230-3474; passionfishreston.com
Outside seating at the luxe PassionFish turns Reston Town Center into a secluded spot, with nine tables and two lounge areas. The full menu is available for dining on the cushy couches.
Madigan's Waterfront
201 Mill St., Occoquan; 703-494-6373; madiganswaterfront.com
Dining on the waterfront is Madigan's specialty. In combination with a seafood-focused menu and an outside deck and tiki bar, this location is perfect for those who want to dine and enjoy the open air.  
Romantic
Patowmack Farm
42461 Lovettsville Road, Lovettsville; 540-822-9017; patowmackfarm.com
Overlooking the Potomac River this restaurant—boasting local, organic, seasonal cuisine—has become the place for a romantic dinner. It's not rare to see wedding proposals year-round, and reservations book up a month in advance for Valentine's Day dining.
(June 2012)