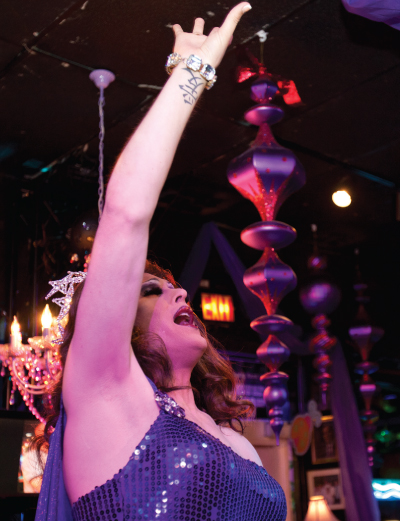 Entertainment
Best LGBT Bar
Freddie's Beach Bar
555 S. 23rd St., Arlington; 703-685-0555; freddiesbeachbar.com
This Crystal City paradise keeps the party going constantly, open until 2 a.m. daily. Freddie's also has daily special events. Themed parties, karaoke, drag bingo—they've got it. Saturdays and Sundays, brunch is the draw. And they even cater.   Best Happy Hour Clyde's Multiple NoVA locations; clydes.com Don't change out of your office garb for this happy hour—you'll want to remain in semi-formal wear to match the refined atmosphere, which shifts with the changing seasons.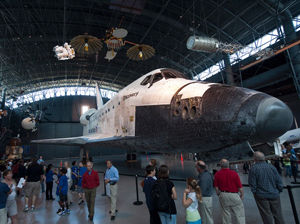 Best Museum
Steven F. Udvar-Hazy Center
14390 Air and Space Museum Parkway, Chantilly; 703-572-4118; nasm.si.edu/museum/udvarhazy
The Udvar-Hazy Center has grown from novelty outpost to NoVA's go-to educational hotspot. The museum features scores of air- and space-related artifacts, including Enola Gay, the plane that dropped the first atomic bomb, and retired Space Shuttle Discovery.
Best Art Center
Torpedo Factory
105 N. Union St., Alexandria; 703-838-4565; torpedofactory.org
The Torpedo Factory is a massive multi-use artistic headquarters. The space features ample studio space for its artists in residence, as well as six galleries. Special events abound, and the building even houses Alexandria's Archaeology Museum.
Best Park for Kids
Clemyjontri Park
6317 Georgetown Pike, McLean; 703-388-2807; fairfaxcounty.gov/parks/clemyjontri
Clemyjontri—the name is a combination of the founder's four kids' names—sits on Google satellite like a patch of rainbows in the middle of McLean. The two-acre park features a reconfigurable maze, an old-fashioned carousel and endless imagination.
Best Park for Grilling and Best Park for Hiking
Great Falls Park
9200 Old Dominion Drive, McLean; 703-285-2965; nps.gov/grfa
Great Falls is required viewing for NoVA residents. If you haven't been there to see the rampaging river and hike, go this weekend. Clamber over rocks, and walk as rigorously as you want—trails vary in difficulty.
Sports bar
Glory Days Grill
Multiple NoVA locations; glorydaysgrill.com
Boasting 25 or more TVs in each of its 16 Virginia locales, private, volume-controlled speakers in each booth, plus yummy game day specials (even gluten-free wings), Glory Days is a sports fan's dream come true.
Karaoke bar
Freddie's Beach Bar
555 S. 23rd St., Arlington; 703-685-0555; freddiesbeachbar.com
Celebrating 10 years of song-singing good times, this Crystal City bar is a karaoke mecca. With mic-grabbing options offered six days a week, it's no wonder Freddie's, self-proclaimed "the only gay-but-straight-friendly bar in NoVA," snagged the title this year.
Irish Pub
The Old Brogue
760-C Walker Road, Great Falls; 703-759-3309; oldbrogue.com
Ask owner Mike Kearney, "Why an Irish pub in Great Falls?" and he'll say, straight up: It's a family thing. "[My father] thought it would be a good idea to start an Irish pub," he says. Since St. Patrick's Day 1981, the Kearney clan has kept with the long tradition of authentic Irish hospitality.
Live music venue
Wolf Trap
1645 Trap Road, Vienna; 703-255-1900; wolftrap.org
Snagging the award two years running, Wolf Trap is NoVA's go-to for live shows of all musical varieties. Country, pop, folk, orchestra, dance, theatre, opera—you name it, and Wolf Trap's got a show. Enjoy one of the Filene Center's 100 or so outdoor shows from May to September or more intimate concerts in The Barns year-round.
Wine bar
Parallel Wine Bistro
43135 Broadlands Center Plaza, Suite 121, Broadlands; 703-858-0077; parellelwinebistro.com
At Jason Bursey's bar, wine isn't just a drink; it's an experience. Featuring self-serving wine machines, small plates and 50 craft bottled beers, Parallel is the complete package of what a great vino bar should possess: vast selection, fantastic service, delicious eats.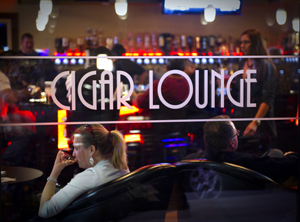 Cigar bar
High Rollers Lounge (King Pinz)
1602 Village Market Blvd., Suite 100, Leesburg; 703-443-8001; kingpinzbowl.com
Offering both premium cigars and liquors, the High Rollers Lounge is one classy hot spot. This King Pinz add-on is a fully enclosed bar, leaving patrons the opportunity to bowl smoke-free while others linger over a Montecristo White Toro or two.
Singles bar
Jackson's Mighty Fine Food & Lucky Lounge
11927 Democracy Drive, Reston; 703-437-0800; greatamericanrestaurants.com/jacksons
This Great American Restaurant also happens to be a great place to mingle with other NoVinians. Whether you grab a cozy booth inside or pull up a chair at the outdoor patio, Jackson's is a young professional's oasis for after-work drinks.
(June 20120)