Services
Illustrations by Libby Burns  


Tailor
Kim's Tailoring
9897 Georgetown Pike, Great Falls; 703-757-3355
Exceptional customer service and professional expertise explains the rave reviews Kim's Tailoring has earned from their customers. Whether mending a torn sweater, hemming slacks or taking in a skirt, Kim's Tailoring always produces timely, specialized work.  

Dry Cleaner
Crest Cleaners
Multiple NoVA locations; crestcleaners.com
Exemplifying a customer-oriented business philosophy, Crest Cleaners offers a free pick-up/drop-off service to benefit the busy customer's lifestyle. Crest is also ecologically conscious, always reducing its environmental footprint.  

Carpet Cleaner
Clean Shag Home Carpet Care
703-691-1271; cleanshag.com
Owner Tom Thieman is the brainchild behind this reliable NoVA business (formerly called American Home Carpet Care), which has been around since 1995. "How you live on your carpets is your business; how they're cleaned is mine," Thieman says.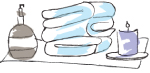 Massage
Lorien Hotel and Spa
1600 King St., Alexandria; 703-894-3434; lorienhotelandspa.com
Lorien Hotel—renowned for its spa—offers a range of treatments from traditional (Swedish, therapeutic and express) to indulgent (Sweet Dream Aromatherapy and warm crystal stone) including in-suite massage.  

Eyebrows/Waxing
Elizabeth Arden Red Door
Multiple NoVA locations; reddoorspas.com
Elizabeth Arden Red Door Spas, with all locations offering a space considered a luxurious oasis, offer full-body waxing for both men and women. Threading facial hair removal services are also available.  

Facials
The Spa at Equinox
8065 Leesburg Pike, Vienna; 703-790-6193; equinox.com
The Spa at Equinox has a facial for every member of the family. Custom facials—offered in chocolate, caviar and vitamin C among other options—use SkinCeuticals products and protocol. No membership required.  

Laser Hair Removal
Medi-Aesthetique Spa
7601 Lewinsville Road, Suite 400, McLean; 703-287-8277; medspanova.com
Medi-Aesthetique Spa is recognized for its full list of laser hair removal services for men and women (and for any body part imaginable), their specialized employees and their orderly facilities.  

Haircut
Maude
775 Station St., Herndon; 703-464-5880; maudehair.com
For a customized cut for both women and men Maude offers a range of prices, dependent on hairstylists' levels of experience. Rookie cuts start at $25, and guests pay upwards of $71 for the salon's most seasoned.  

Haircolor
Jon David Salon
Multiple NoVA locations; jondavidsalon.net
Experienced stylists here customize color to perfectly fit clients' requests. What's more, color comes with conditioning. Jon David Salon offers to its color clients a shine treatment that coats hair to keep color vibrant and strengthen strands.  

Yoga
Inner Power Yoga
46090 Lake Center Plaza, Suite 205, Sterling; 703-795-8400; inner-power-yoga.com
Boasting supportive, experienced instructors and a calming lakeside studio, it's no wonder this yoga hotspot was voted "Best of" by NoVA yogis two years in a row.  

Pilates Studio
Studio Be
4211 Fairfax Corner East Ave., Suite 215, Fairfax; 703-222-0122; studiobepilates.com
Through fitness education, guided exercise and realistic goal setting, this Fairfax Corner studio is dedicated to ensuring clients have "the ultimate Pilates experience."  

Plumber (TIE)
Michael & Son Services
michaelandson.com
What started out as a humble family business has been one of the DMV's most respected contracting companies for over 30 years, providing experienced technicians for all electrical, plumbing, construction, handyman, heating and A/C needs.
My Plumber
myplumber.com
My Plumber works tirelessly to uphold its mission of responding to clients' needs "diligently, quickly and honestly, with the highest regard for customer satisfaction." And as long as you call before noon on weekdays, same-day service is guaranteed.  

Painter
J Z Painting
703-421-9500
Owner John Zarou has specialized in high-quality, customized residential paint jobs since 2002, with word-of-mouth referrals crucial to the company's success. "My customers are my testimony," he says.  

Automotive Service
Virginia Tire & Auto
Multiple NoVA locations; vatire.com
A staple of the Northern Virginia auto service industry for over 35 years, Virginia Tire & Auto seeks to "establish long-term, win/win relationships with every customer and associate."  

Mani/Pedi
Tiffany Nail Salon
20020 Ashbrook Commons Plaza, Suite 112, Ashburn; 703-726-6245
In its clean and spacious facilities, Tiffany Nail Salon has gained a reputation for providing indulgent treatments from manicures and pedicures to waxing at affordable prices, with special event packages offered for groups.  

Pet Groomer
Bark 'N Bubbles
Multiple NoVA locations; barknbubblesdogwash.com
You no longer have to choose between the convenience of grooming your dog yourself and the lasting quality of a professional wash. Bark 'N Bubbles gives you all the self-washing tools needed to pamper your pup.  

Pet Trainer
Fur-Get Me Not
4120 S. Four Mile Run Drive, Arlington; 703-933-1935; furgetmenot.com
Providing everything from specialty classes on confidence, agility and fun tricks to puppy socials and Canine Good Citizen tests, Fur-Get Me Not specializes in helping adopted rescues adjust to their new lives and become well-mannered.  

Pet Sitter
Your Dog Smiles
11160 South Lake Drive, Reston; 703-962-7222; yourdogsmiles.com
Offering a variety of pet and home care services, including dog running, pet taxiing and house sitting, Your Dog Smiles loves and cares for your pet—and your home—when you can't be there.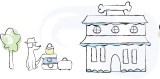 Pet Kennel (THREE WINNERS)
Dogtopia
Multiple NoVA locations; dogdaycare.com
Ever wonder what your dog is up to at the kennel? Dogtopia provides you with a doggie vacation itinerary and lets you check in on your furry loved one via live webcams.
Fur-Get Me Not
4140 S. Four Mile Run Drive, Arlington; 703-933-1935; furgetmenot.com
Relax in knowing your dog is playing well with others; Fur-Get Me Not separates dogs into different playgroups based on temperament, size, age and personality.
Old Mill Boarding Kennel and Grooming Salon
91 Lawson Road SE, Leesburg; 703-777-4183; oldmillpets.com
Featuring a dog kennel, cat loft, pet spa, exercise yard and on-site veterinary hospital, Old Mill has provided premier boarding services to the region for over 25 years.  

Kitchen Remodeler
Home Equity Builders Inc.
1146-D Walker Road, Great Falls; 703-759-2530; hebinc.com
Home Equity Builders bridges the gap between construction and technology through HEBweb Interactive, an online management tool allowing you to stay on top of your latest project from conception to completion.