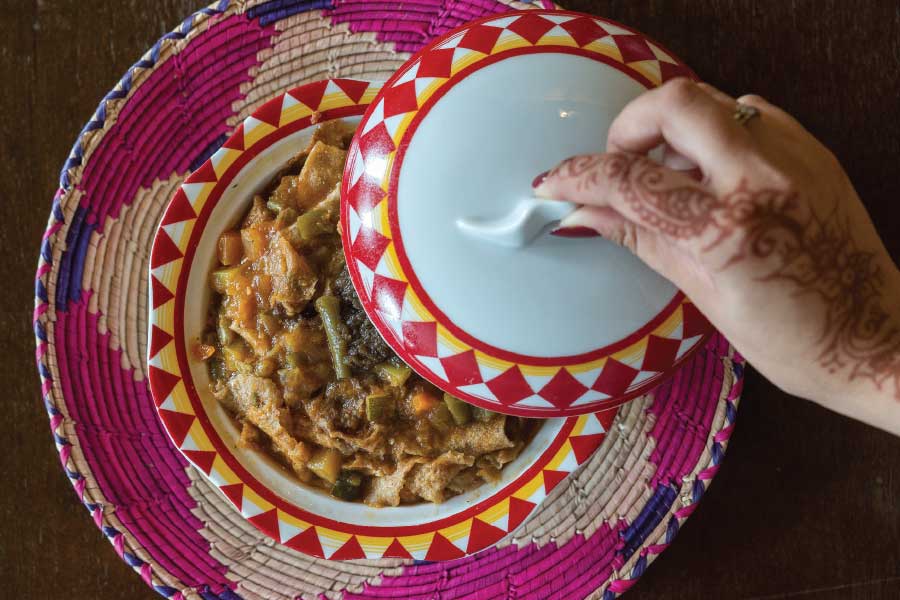 Aldeerah
Saudi / $$ / 262 Cedar Lane, Vienna
"Do you mind if I walk around with incense?" asked the host. Soon, she lapped the room holding smoking sticks. It started to smell like a different world. It looked like one, too.
Aldeerah, a Saudi restaurant in a Vienna strip mall, refuses the farmhouse chic criteria of restaurant design and instead employs double-wide chairs covered in a patterned cloth of brightly colored triangles forming diamonds of various sizes. Dishware is just as colorful with bright reds, yellows, greens and blues decorating each plate showcasing food that is at once foreign and familiar. Family-style rice dishes come with hunks of lamb and crispy shallots, but then there's jireesh, crushed wheat in a yogurt broth. It's like mashed potatoes combined with cream of wheat, but better. It's novel and comforting, as is qursan, a softened bread mixed with vegetables that's subtle and homey. Northern Virginia is famous for its diverse residents, and with a Saudi restaurant we are closer to having the food to match.
<< Back to 50 Best Restaurants
(November 2015)