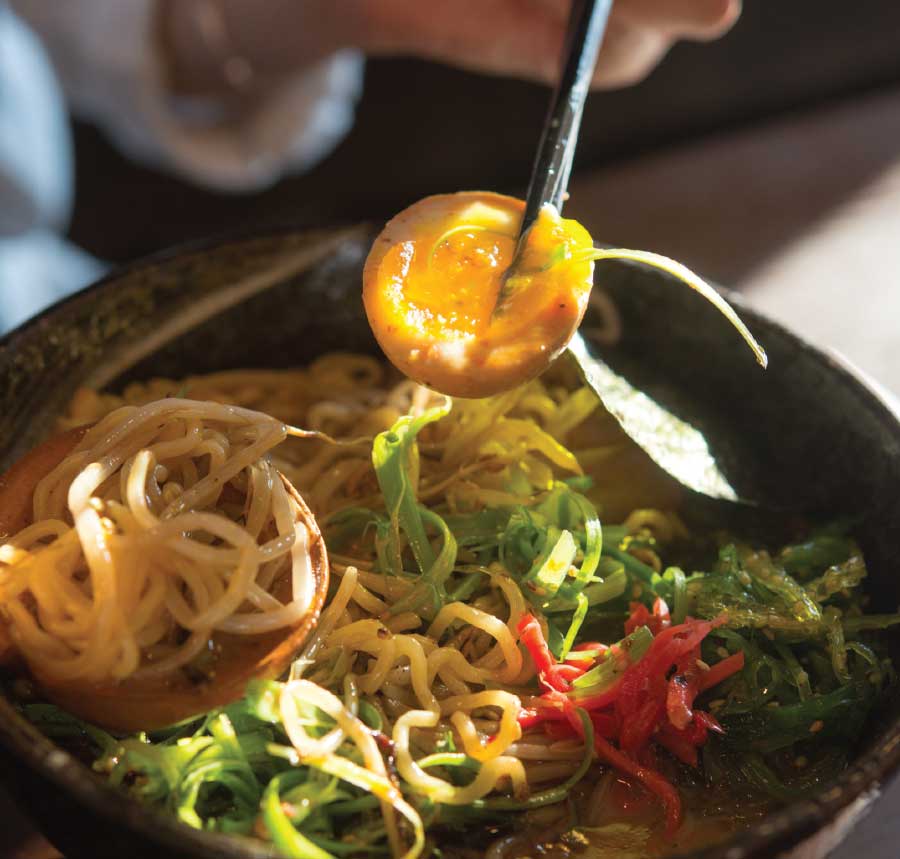 Marumen
Japanese / $ / 3250 Old Pickett Road, Fairfax
You know that traffic circle in Fairfax you probably try to avoid? Don't. Right off Fairfax Boulevard on Pickett Lane, there is ramen.
Marumen isn't one of those catch-all Japanese restaurants. The slim menu features less than 10 small plates and a handful of ramen variations (though expect more vegetarian-friendly options and donburi bowls). Start with something fried like karaage, chicken thighs in a light, crunchy batter decorated in a garlic-infused Kewpie (Japanese mayonnaise) and katsuobushi (dried fish flakes). There's also a delicately charred salmon, fragrant with miso, and a pork katsu managing to stay crunchy in a golden brown Ottogi curry (yes, that yellow box found at the grocery store) dotted with peas and squared-off carrots. The ramen's dominating feature is the smoke imparted when bean sprouts fly around the wok. There's a smoky element in the broth too, but former chef Paul Lee won't divulge his technique. Lee left the restaurant right before this issue went to print (and is looking to open his own ramen house) but says his sous chefs will keep the secrets to his ramen alive, be it the thin and squiggly noodles arranged in shoyu (soy sauce) broth or flat noodles (like those in pad Thai) dunked into a spicy miso dipping sauce, dubbed Godzilla. Garnishes include roasted pork belly with just the right amount of fat and half of an egg with the yolk in that perfect creamy, gelled consistency.
<< Back to 50 Best Restaurants
(November 2015)