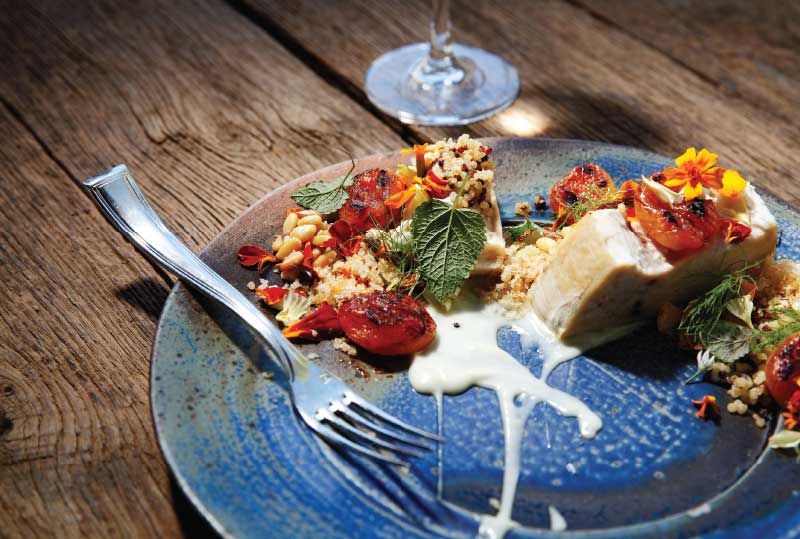 The Restaurant at Patowmack Farm
Modern American / $$$$ / 42461 Lovettsville Road, Lovettsville
This isn't hyperbole. There isn't another place like The Restaurant at Patowmack Farm.
It's not just the year-round twinkle lights, the gazebo, the romantic bridge off in the distance surrounded by hills and greenery. It's not just the ingredients, the mushrooms foraged, the greens grown on the property. There's turkey liver on the menu because chef Tarver King raises them (and sells them for Thanksgiving). The liver is treated like yogurt and labeled as a parfait: creamy, salty, meaty and so rich, topped with crunchy cremini crumbs, freeze-dried garlic chives now in powder form and a cured yolk adding to the depth of it all. It's an opening dish in the "Raised" menu.
What makes this tasting menu-only format party-friendly is the choices, including "Grown" and "Found"; not everyone dines on the same five courses—plus extras.
Who makes spoonbread and crab balls anymore? But here, these starter snacks feel grounded in today, not just a throwback. The bread is housemade, as is the pork lardo and butter. And after dessert: petit fours. Order coffee before that long drive home: a Chemex arrives over a small fire.
The menus offer a vast variety of vegetables, proteins and perhaps things you haven't heard of. Hardcore farmers market devotees might recognize cardoons, an Italian member of the sunflower family, featured in a tomato risotto that eats more like mac-and-cheese; or things you didn't know could be coaxed out of a fruit, like how apricot seeds turn into a paste tasting like almonds.
King turns normal into interesting, like how basmati rice competes with flame-hued marigold petals fluttering around swordfish steaks and grilled apricots. An oatcake, which sounds like health food hell, becomes worthy of dessert, moist and hearty, topped with a luscious blackberry sorbet, an example of one of those times that something that's not actually the thing it's supposed to be tastes better than the thing it is. That's what King does.
<< Back to 50 Best Restaurants
(November 2015)