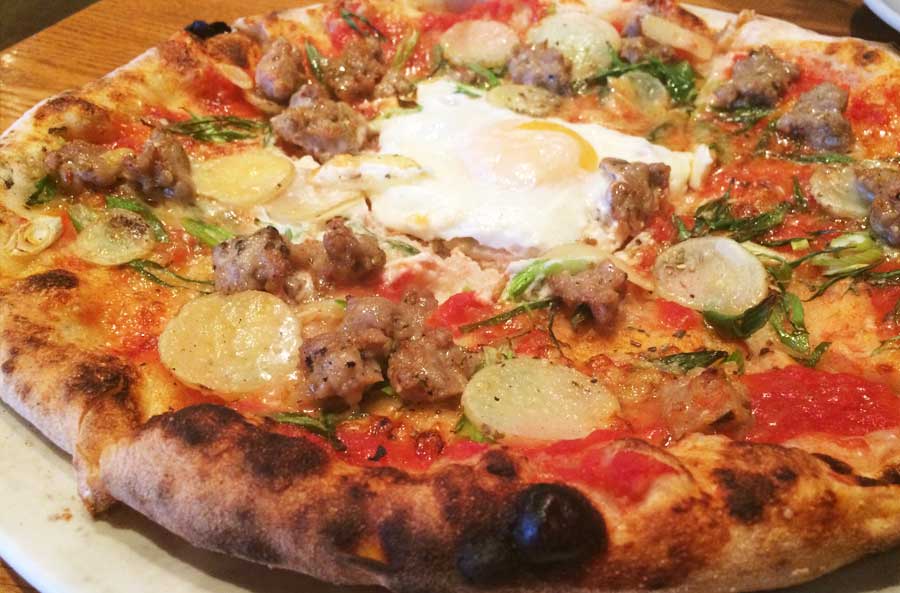 Modern American / $$ / 400 S. Maple Ave., Falls Church
"Everything's changed, except for the pizzas," says the bartender/server just a few months after chef Will Artley left Pizzeria Orso, a place known as much for its eclectic, seasonal small plates as for the pizza made with a house sourdough starter. (Artley is now at Reston's Neyla*.) The new chef: Bertrand Chemel. He's the lead at Orso's sister restaurant, 2941, and now is certified in the art of Neapolitan pizza making and develops the more-than-pizza menu at Orso.
A dish as simple as a Parmesan dip, a whipped bowl of sharp flavors topped with a pile of capers, is almost magical. A smart usage of Brussels sprout hearts—the leaves are fried for "chips"—makes the base of a salad-like dish with cubed winter squash, a sauce of pureed cauliflower, dotted with bacon. The pizzas still retain that sour, chewy, charred crust and undone middle. It's changed, but it's still worth a visit. *As of this story going online, Will Artley is now at Nonna's Kitchen in Washington, D.C.
<< Back to 50 Best Restaurants
(November 2015)