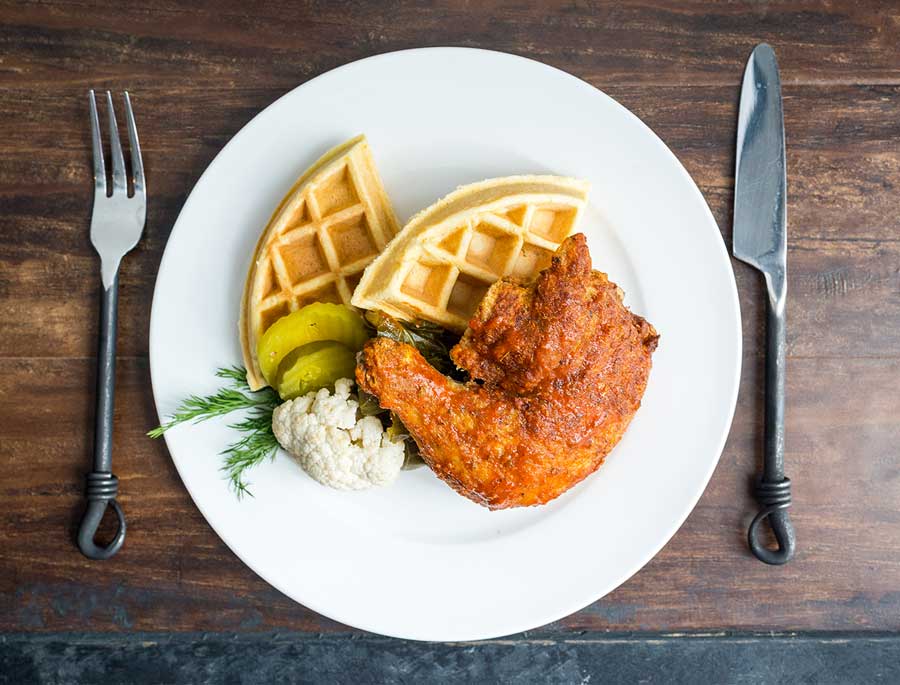 Reserve 2216
Southern / $$$ / 2216 Mount Vernon Ave., Alexandria
Two pies sat out on the pass between the kitchen and the dining room. It was like that grandma-of-your-dreams scene. Open window, fluttering drapes, fresh pie.
But we're not visiting granny. We're in a tiny rectangle of a room, about 25 seats plus a handful at the bar. To start, instead of a bread basket, the kitchen offers a rotation of salty snacks like frickles or housemade potato chips dusted with Old Bay and served with a buttery horseradish dip. It's a scrappy operation from the team at the restaurant downstairs, Del Ray Pizzeria. The menu nods Southern—order the Nashville-inspired hot chicken, fried and spicy with a killer pimento cheese slathered on puffy fried green tomatoes. A shrimp and grits with corn and, because of a shipment error, says the server, studded with crab instead of rockfish turned into a summery delight. Not everything is perfect: The peaches in that pie could have used time to ripen, but the housemade bourbon-vanilla ice cream atop made up for it.
<< Back to 50 Best Restaurants
(November 2015)