Basket takes the guesswork out of comparison shopping.
It's the weekend, and that means it's time for the grocery store run. You've just trudged zombielike down every aisle in the store, nearly knocking over a fellow shopper and a stack of canned chickpeas with your cart, and then waited in line for 20 minutes at the register. You watch all your groceries neatly make their way down the conveyor belt and into their little brown bags, and finally the moment of truth arrives. Alas, the little black screen reveals more green digits than you care to see. You ask the clerk to double-check they swiped your loyalty card. You frantically muscle through the bags and pull out a couple of items, realizing you can probably do without the manchego and pomegranate juice for another week. Yet your bill is still nowhere near where you'd like it.
Basket, a Clarendon-based app created by locals Neil Kataria and Andy Ellwood in 2016, sets out to prevent such a scenario. Through algorithms that compare crowdsourced pricing data, the app lets users find the cheapest price in their vicinity for a given grocery or health and beauty item.
"About four years ago when we had our second child … I was traveling between D.C. and San Francisco every other week with my other ventures prior to starting Basket. And so, just like many families in Northern Virginia, we were ordering baby diapers and wipes" from sites like Amazon, Kataria says. Over time, their bill was creeping up to $300-$400 per week when a few grocery items were added.
Kataria, then on the board at New Brand Analytics (which he founded in 2010), recalls arriving home late at night from one of his regular flights to find a giant box on his doorstep. "I move it inside. I'm not that happy. I'm tired. I open the box up to see a receipt for $445 of what we spent," he says. The following day, he visited several nearby big-box stores, drugstores and grocery stores with his receipt to compare the prices of each item, and he determined the same items could be purchased for $300 right in his neighborhood. That got him thinking.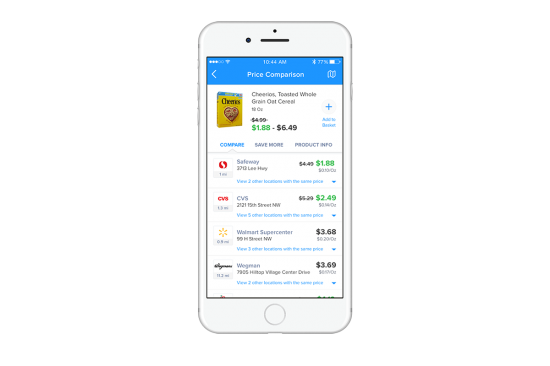 About a week later, Kataria met up with Ellwood, then working at navigation app Waze, and shared his idea for an app that would compare local pricing data for consumer packaged goods. To gather the huge bank of pricing data they would need for the grocery app, they first created a crowdsourced pricing app called StockUp, where users received gift cards for scanning barcodes with their smartphones and sharing pricing data from the stores they visited. In the first year, they'd banked 10 million prices with an army of 5,000 "citizen price checkers."
By 2016, the duo was ready to release Basket, the app that would utilize the StockUp data to users' shopping advantage. With the app, a user searches for a specific product, sees the price at several local stores and then can choose to add it to their "shopping list." Once a list is complete, algorithms determine at what one or two stores the total basket price will be lowest.
The team plans to add products and stores to its database, such as luxury cosmetics from Sephora and over-the-counter medicine. They're also in talks with local businesses about partnerships that would involve personalized ads in the app.
"The businesses now are shaking because they're losing revenue to Amazon and online folks," Kataria says, adding that stores stand to benefit from the app in ways beyond advertising. "Without transparency, consumers don't know that [they] can buy things cheaper at Target, Walmart, CVS versus Amazon."
Basket will soon feature products at microchains such as Magruder's and Glen's Garden Market and will allow users to compare local prices with what they could find at online-only retailers. And for shoppers without cars, Kataria and Ellwood are also partnering with Lyft, Uber and Fasten to offer free rides sponsored by participating stores.
Now with more than 300,000 users, Basket is reaching shoppers in 48 states with requests rolling in from Canada.