Experts To the Rescue
Because elementary-aged students have a wide range of options in Northern Virginia, some families seek advice from educational consultants.
By Renee Sklarew / Photography by Erick Gibson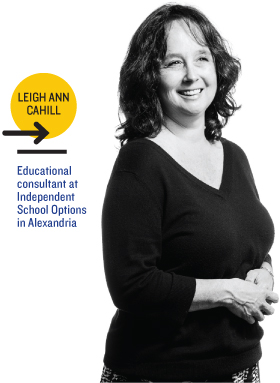 Leigh Ann Cahill is an educational consultant at Independent School Options in Alexandria. Often former teachers or school administrators, the consultants specialize in researching services, curriculum, teaching styles and academic environments found at each school. Frequently, they refer parents to testing to measure a child's strengths, learning challenges and personality styles to help insure the child and school are a good match. Many independent schools require testing during the admission process.
When do most families contact her? "We deal with families in two main ways," explains Cahill. "When a child is suspected of having special needs, but doesn't actually have a label yet. The child might seem out-of-sorts or complains of a stomachache before school; those types of things. It takes awhile to put a label on that. Sometimes the parent just feels the child is not well-served where he is."
"Another common reason parents ask for guidance is when kids are bored; they're not challenged," says Cahill. Then, she might suggest a program or school with more academic rigor, "where the child gets more of a push."
Cahill has worked with admissions officers at many independent schools, and she has taught in both public and private schools in the area. To help parents identify the best match, she often observes the child, consults with the child's preschool teacher, and then makes recommendations. Through these evaluations, Cahill helps parents determine what school environment is most conducive to learning. "Schools really appreciate when they don't have to decline an applicant, and they're comfortable when we ask them to take a chance on a child," notes Cahill.
Consultants help parents advocate for services—like obtaining an Individualized Educational Program (IEP). She refers these families to educational testing as well. "It's possible to get screening in public schools, but essentially your child has to be failing to be eligible—emotionally, socially, academically … there's an eligibility meeting, then tests are administered and analyzed. For six months a child might be in limbo," says Cahill.
Although the different testing may cost upwards of $3,000, Cahill refers some families to George Mason University, where graduate students can assess children for $380-$1,200, depending on which tests are administered.
(August 2012)