Reprinted with permission of For Cod & Country, by Barton Seaver, copyright 2011, Sterling Epicure.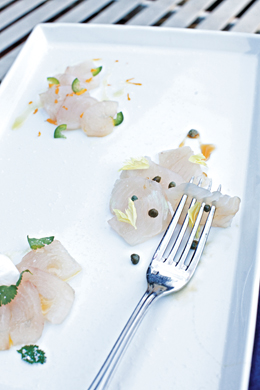 Wahoo Crudo with Three Different Flavors
Serves 4 as a first course
INGREDIENTS
3/4 pound wahoo loin
1 tablespoon capers
10 celery leaves, picked from the very center of the heart
2 tablespoons maple syrup
1 jalapeno chile, finely sliced
4 tablespoons extra virgin olive oil
1 orange
2 tablespoons plain Greek-style or regular full-fat yogurt
10 fresh cilantro leaves
Salt
PREPARATION
To slice the wahoo, use a knife with a long, thin, sharp blade. Start at the base of the knife and, making 1/8-inch-thick slices, draw it through the loin in one motion. Layer the slices attractively on large serving plates in three groups. Position the slices carefully, as moving them is difficult to do without tearing them. If necessary, cover the plates and chill them until you need them.
Just before serving, for each group of slices, arrange the garnishes in these combinations: Place a few capers in the celery leaves and drizzle with the maple syrup. On another group, arrange a few slices of the jalapeno, drizzle with 2 tablespoons of the olive oil, then grate orange zest over the top. On the third grouping, serve a dollop of the yogurt and the cilantro leaves, and drizzle with the remaining 2 tablespoons olive oil. Season each grouping with salt, except the one with the capers.
Try to get this dish to the table as cold as possible.
(May 2011)