Finding the right fit
Schools are seeing a sharp increase in the demand for special needs services. And the special needs programs offered vary from school to school.
By Renee Sklarew / Photography by Erick Gibson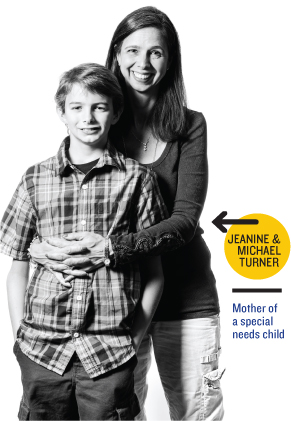 Jeanine Turner's son Michael was hearing impaired with a host of other disabilities. When Michael first entered public school in Fairfax County, Turner was frustrated by the IEP process which puts parents in the difficult position of focusing on the child's problems in order to be an advocate. Even so, Michael didn't qualify for many services.
"It's complicated," Turner explains. "There's a huge issue about inclusion and what it means for kids. Sometimes a mainstream classroom without support becomes a very lonely place, but it can also be one of the best things, because they can watch and learn social skills from typically developing kids."
Turner, a professor at Georgetown University, moved Michael to St. Marks Catholic School in Vienna, to their Evangelist Program for kids with special needs. There he spends a portion of the day—homeroom, religion, PE and his 'specials'—with the rest of the students. "The Evangelist program tailors the learning to the needs of students in the program whether they are on the autism spectrum, or have ADHD. Currently, the program has five students and two teachers," explains Turner.
Some independent schools cater exclusively to students with documented learning challenges—like Oakwood School in Annandale. Muriel Jedlicka, Oakwood's admissions director, says parents apply through referrals by speech and language therapists, educational consultants and neuropsychologists, as well as through other parents of children with special needs.
With a master's in special education, Jedlicka's job is to make sure each child is a success at Oakwood. "We're honest in the process. If a kid's already struggling in a school, we don't want them to be in a position of failure."
With public kindergarten seeing up to 27 students, Jedlicka recommends parents consider class size. "Our focus is to break into small academic instruction. We meet a child where they are, and move them from there."
(August 2012)