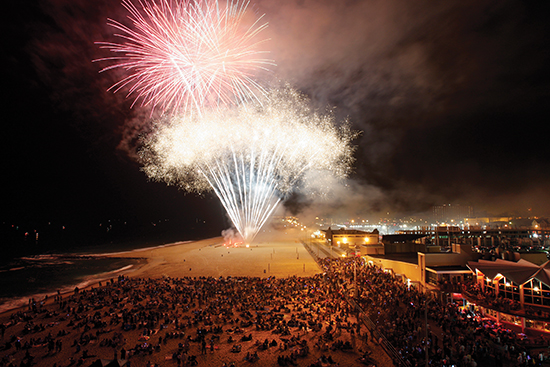 Last year, President Obama joined Governor Christie on bleak and rainy Memorial Day weekend to officially re-open Asbury Park, "Stronger Than the Storm." The feisty Jersey Shore community has survived far more than Hurricane Sandy on its determined road to resurgence. But now, it's back.
Once upon a time, almost every Jersey Girl worth her short-shorts trod The Boards at "AP," scarfing down fries and screaming for The Boss. While Bruce Springsteen and the Stone Pony immortalized "AP" on his iconic album cover and solidified the place of "Jersey Shore" music in our culture, a confluence of economic conditions left this shore beacon a bit dim.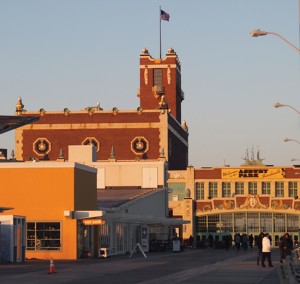 As has happened with many beach/shore communities, the gay community stepped up to the plate to start turning the tide. And they were joined by other "AP" devotees.
"Asbury Park is a classic seaside resort destination that has reinvented itself for modern times," says Jacqueline Pappas, executive director of the Asbury Park Chamber of Commerce. "Our community is made up of passionate business owners, artists, musicians and restaurateurs who are also residents. They continue to introduce Asbury Park to friends, family and colleagues, which has led to a very organic resurgence. Music and the arts have long been a natural draw to Asbury Park, but the blossoming of our culinary scene has definitely been a tourism draw."
Locals love breakfast at Frank's Deli on Main St. and coffee from Asbury Park Roastery in the Grand Arcade at Convention Hall. Don't miss happy hour at FISH downtown, a restaurant in the original post office and later largest bank of Asbury Park. "There is even a private dining room nestled into the original bank vault," says Pappas.
Looking for classic Italian? Look no further than dinner at the Asbury Park Landmark, Jimmy's Restaurant on Asbury Avenue. For a real Asbury experience, save room for free omelets at Johnny Mac's House of Spirits. And don't miss bakery offerings at Confections of a Rockstar.
Vacation cuisine? "We have that too, at Langosta Lounge," says Pappas, "with live music and fabulous Bloody Mary's on the boardwalk."
A stroll on "the boards" is mandatory. Asbury Park is dog-friendly, so Yappy Hour at the world-famous Wonderbar is a must.
A great way to peek into the music history of Asbury Park is to visit the Asbury Angels boardwalk of fame bench plaques located at Second Avenue on the Asbury Park Boardwalk. "Inductees' plaques have brief bios and QR codes to the full versions," says Pappas.
Cocktails at Watermark overlooking the ocean makes for a stunning Asbury visit and live music at the Stone Pony tops off a classic day.
"Another treat is a movie in our boutique art-house movie theater, The Showroom or even a glass-blowing class at Hot Sand," says Pappas.
But where to stay? Depends. If romance is in the air, the restored boutique Hotel Tides might be the very thing—an elopement package includes The Deed done by an ordained minister. Should your intentions be less permanent, consider the Movie Night package.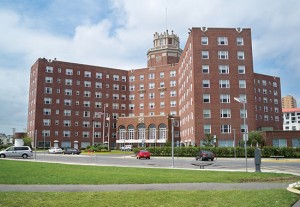 Then there is the venerable and restored Berkeley Oceanfront, rich with legend and new with amenities.
For an unusual and fun B&B experience, consider Mikell's Big House, "no doilies here," claims the owner. The room names tell it all: Big Room, Bigger Room, Biggest Room, Huge Room, Gigantic Suite. Mid-century modern furniture blended with antiques give an eclectic vibe.
The biggest events in the fall are "The Asbury Park Oysterfest" (Sept 5-7) and the Guinness World Record-holding Zombie Walk (Oct 4). In 2013, it is claimed that 9,592 attended—beat the record. Keep the title. –Tracey Meloni
Accommodations
Hotel Tides–upbeat, offbeat and the epitome of Asbury Parks' Renaissance, the boutique Hotel Tides blends glam contemporary vibe with a nod to heritage.
408 7th Ave.
Asbury Park, NJ 07712
732-897-7744
hoteltides.com
Two-night stay: $450-$550
Berkeley Oceanfront–grand Beaux Arts hotel steps from beach and boardwalk underwent major luxury restoration. Savor modern blended with old Asbury Park.
1401 Ocean Ave.
Asbury Park, NJ 07712
732-776-6700
berkeleyhotelnj.com
Two-night stay: $450-$700
Mikell's Big House B&B–named for the final destination of the 1899 embezzling banker-owner, Big House has big warmth, and a cool separate carriage house.
405 4th Ave.
Asbury Park, NJ 07712
732-869-0988
mikkelsbighouse.com
Two-night stay: $400-$575; 3-bedroom Carriage House: three-nights, $1,500
Travel Facts
225 miles from Fairfax City • Asbury Park hosts the Garden State Film Festival, March 19-22, 2015 • in 1974, The Stone Pony
Opened and has since hosted Jon Bon Jovi and Bruce Springsteen to name a few rockers • The city is 1.603 square miles
(September 2014)