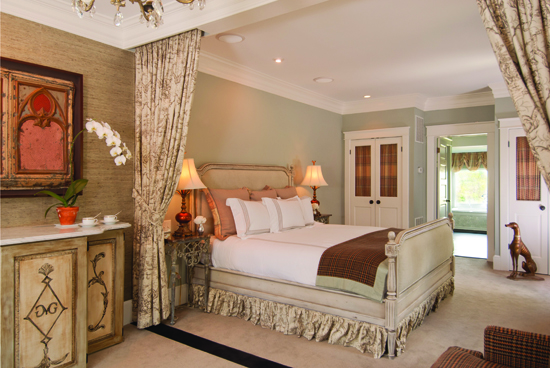 Oh if these walls could talk, guests at the two-year old Glen Gordon Manor would sit spellbound, sipping wine, and eavesdropping on tales of passion and intrigue. Three-quarters of a century ago, this aristocratic country estate attracted a king and a notorious divorcee for a little fox hunting. History buffs will recognize the allusion to the glamorous American, Wallis Simpson and Edward VIII, the British king who abdicated his throne to marry her. The famous couple visited here when it was the private home of Simpson's cousin. Today you can sleep in the sumptuous Windsor Suite named for them. The epitome of seductive sophistication, the suite is one of five guest rooms with panoramic views of Virginia's storied horse country.
The rich history and rolling landscapes are just part of what makes Glen Gordon Manor special. What catapults it to stardom are innkeepers Dayn Smith and wife Nancy Moon. The couple's hospitality knows no bounds, and every preference considered and tended to.
Smith is an internationally trained chef who prepares an exquisite four-course breakfast fit for the most particular gourmand. Moon oversees the design of the Manor's interiors, creating a palate of unfussy elegance. Their exceptional taste in art and antiques is showcased in every corner. The Manor's team includes nephew Trent Smith, daily administrator of kitchen, gardens and grounds, where he personally forages for ingredients, including a bounty of eggs from resident hens.
Don't miss Dayn and Trent Smith's multi-course dinners at the Manor. A bargain at $85 per diner, the chefs use homegrown ingredients to inspire their selections. The resulting feasts are unforgettable. They also offer instruction before dinner to acquaint guests with the art of preparing such delicacies as Manchego cheese soufflé and cucumber basil sorbet. With virtuoso cuisine and impeccable service, its no surprise this discerning trio poses serious competition for legendary neighbor, Inn at Little Washington.
Glen Gordon Manor offers close access to local vineyards, quirky boutique shopping and casual dining including 24 Crows and Griffin Tavern. For more active pursuits, there are miles of hiking trails outside the door, and nearby Marriott Ranch offers horseback riding for all levels of ability. Tour Copper Fox Distillery where they make single malt whiskey and gin. The most popular choice, of course, is to relax and reflect upon the pastoral scenes of the surrounding Shenandoah Mountains, old growth trees and manicured gardens—all with the power to transport to a more tranquil pace.
Besides romantic suites, some with claw-foot tubs and European-style showers, families may chose the privacy of the Manor's separate two-bedroom house, Gordon Mews. No matter what room they inhabit however, every guest is treated like royalty at Glen Gordon Manor. // Glen Gordon Manor, 1482 Zachary Taylor Highway, Huntly, VA 22640; 540-623-9400; glengordonmanor.com —Renee Sklarew
1-hour drive.
Activities
(on premises):
Heated outdoor pool / Cooking instruction / Hiking / Equestrian
options / Pony rides / Cross-country skiing
and sledding / Wine Tasting
(off premises):
Antique shopping / Vineyard Tours /
Distillery Tour
Rates:
Room rate per night includes four-course breakfast: $250-$450
Winter Manor and Meal Package: Book dinner for two at Glen Gordon Manor during your stay and get 20% off the room rate. Dates: January 15-March 31, 2014. Use code: NORTHERN
VIRGINIA MAGAZINE