Public Schools Push for Higher Learning for All
As children develop, there's a chance that their original school choice no longer fits. Elementary schools recognize this and are adapting to meet students' changing needs.
By Renee Sklarew / Photography by Erick Gibson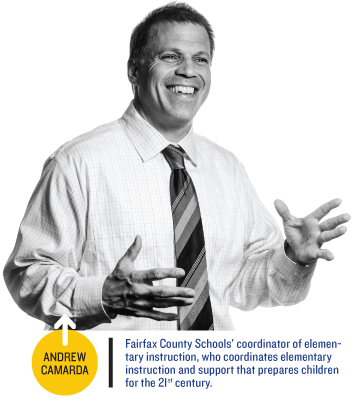 As principal at London Towne Elementary School in Centreville, Andrew Camarda strove to build a culture of high expectations for all learners. During his tenure at London Towne, approximately 25 percent of his students were enrolled in English as a Second Language (ESOL), and 39 percent were low-income families receiving free or reduced-price lunch plans.
As principal, Camarda worked hard to support his teachers and provide tools to ensure every student was being challenged by a rigorous curriculum. Though students at London Towne met and surpassed the benchmarks of No Child Left Behind—Camarda was quoted saying in The Fairfax Times in 2007—federal testing requires students to have command of the English language to achieve top scores.
Nationwide, educators have expressed frustration with methods used to measure success. Today, there's a movement in Northern Virginia public schools to provide thorough and personalized evaluations of students' strengths and weaknesses, and tailor instruction accordingly.
In his new role as Fairfax County Public Schools' coordinator of elementary instruction and support, Camarda is charged with "coordinating elementary instruction, whether it's math, science or language arts, that prepares children for the 21st century." Camarda draws on his experiences as a former principal to understand the challenges teachers face as their student population continues to diversify and differentiate. He wants teachers to have access to instructional techniques that cater to the needs of advanced students, special needs learners and kids considered average.
Fairfax County offers a wide range of educational options within their system. They've launched the 'Best Practices For Teaching and Learning' project so teachers receive continuing education in enhanced teaching techniques. These techniques include methods for evaluating students and developing instruction based on the specific learning styles of each child.
"Authentic measurements go beyond the multiple choice tests. It's looking at how to assess the younger learners. How do you measure what [younger learners are] able to do, and see where they belong?" explains Camarda. "We're using a variety of ways—conducting side-by-side observations, where the teacher notes specific reading behaviors, or writing samples. In mathematics, we look at how the student performs mathematical tasks. Do they use strategies to do addition or multiplication? Do they use manipulatives the correct way? It's looking at the student's actual work, and not whether they got answers right on a test."
Camarda suggests parents become acquainted with their neighborhood school. First, read the school's website and mission statement to understand the philosophy adopted by the school's leaders. Find out about the PTA and community events; "that alone can tell you a lot," says Camarda. Ask parents in the neighborhood about their experiences; it's important to see how the school community embraces diversity. If a parent wants to tour the neighborhood school, contact the principal. The caveat: "We want to be very open because we're proud about it. But we obviously can't have people coming into the classroom regularly because it becomes very disruptive to instruction. Especially for the little ones," explains Camarda.
The state publishes test scores and attendance rates, which Camarda says are small indicators of teaching quality. Language immersion and magnets are filled by random lottery, but all public schools offer advanced academics as a result of Fairfax County's effort to promote higher-order thinking overall.
(August 2012)