Two moms pioneer a brand of gender-neutral clothing for kids interested in STEAM subjects.
In 2015, Jaya Iyer's young boy and girl aspired to be a fighter pilot and an astronaut, respectively, and Iyer hoped to nurture their interests by stocking their closets with science-themed clothing. Easier said than done.
"I was able to find all airplane and fighter pilot-related stuff for my son, but I wasn't able to find anything for my daughter because an astronaut is considered a man's job more than a woman's," she says.
Growing tired of buying her daughter clothing from the boys department, Iyer decided to launch a company that made the clothes her daughter wanted. She teamed up with Eva Everett, a former co-worker at Fairfax-based ThinkGeek, and raised more than $30,000 with a Kickstarter campaign for the budding brand named for Iyer's daughter, Svaha.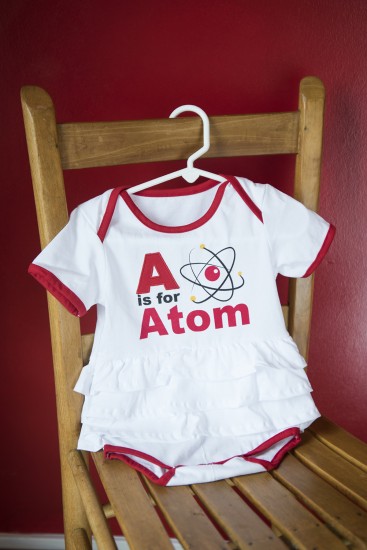 Everett had had similar struggles finding gender-neutral clothing for her three sons and was all for a project that encourages future female scientists. "Girls need to be inspired to go into STEM fields because there's so many little girls who get passionate about it, but then the support isn't there," Everett says.
Parents who are nauseated by the bubble gum-colored, sequin-encrusted world of girls fashion have a growing list of choices online. Svaha joins D.C.-based Princess Awesome, Girls Will Be in Austin, Texas, and several others in the consortium of boundary-bending kids retailers.
Svaha offers dozens of STEAM (science, technology, engineering, arts and mathematics) designs in organic cotton for both boys and girls, including a test-tube T, a JavaScript dress and dinosaur underwear. And after several mothers requested science-themed clothing for themselves, the company raised nearly $60,000 with a second Kickstarter campaign for a women's line, including comfy dresses with pockets and 3-D printed jewelry.
"When I would tell people I was a scientist, 9 times out of 10, the response I'd get was, 'Oh, you don't look like a scientist.' And it used to infuriate me," says Everett, who has done lab work as a biologist. "We want to change that. We want to say that women belong here. And we want to make dresses that say, 'You can be feminine and also love science,'" Everett says.
Iyer notes the uncertainty that comes with entrepreneurship through crowdfunding. "We had no idea where we were going," Iyer says. "If it had not gotten funded, we don't know what we would have been doing. But had we not tried, we would have never known."
(May 2017)