Trunk Club delivers celebrity treatment for the noncelebrity.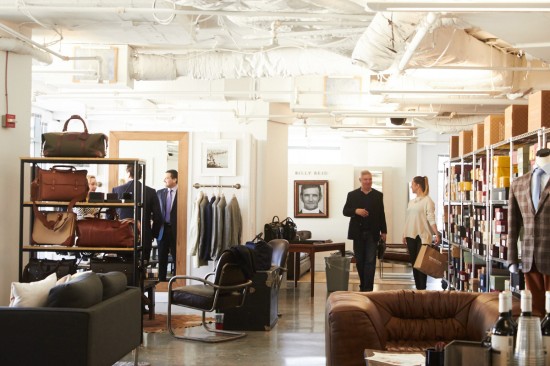 There comes a moment in every woman's life when she suddenly feels very important—like all the time she's invested in her education, her passions, her relationships and her makeup has culminated in a finite but transformative period of euphoria. For some women, this arrives on her wedding day. For others, it's the day she makes partner. For me, it was the moment I walked into Trunk Club.
On the seventh floor of a nondescript office building near the International Spy Museum in D.C. lives a magical world of weathered wood and leather. Light pours in from floor-to-ceiling windows and bounces off shelves of handsome chestnut valises. A man in a gray suit with a tidy pocket square beams from his seat on a well-tufted sofa. Women in cold-shoulder sweaters, skinny jeans and booties trade secrets at barstools along an expansive white bar with exposed light fixtures. Designer logos are repurposed as artwork on the outer walls of changing booths hung with thick fabric curtains.
A confident young woman greets me as the elevator door opens and, after offering me coffee, tea or an alcoholic beverage, escorts me to my consultation area. Within a few moments, my stylist arrives. Her long blond hair is bound into a low ponytail, and she's sporting a chic black blazer with a short stand collar over a basic white T-shirt with ankle-length jeans and loafers—someone I'd totally trust with my closet.
She smiles and gets the conversation rolling by asking what I'm looking for. Though I no doubt have far more clothes than I need, I can always come up with a very necessary addition. I give her the short list: wedges, a date-night blouse and the perfect belt for jeans. But I add that I'm open to her suggestions. She nods and jaunts off to the luxurious clothing land that resides behind a series of curtains at the back of the room.
Moments later, she's back with about 10 items draped over her arm: an assortment of blouses, pants and shoes. She presents each one, noting their finer points (ooh, peplum!) and gauging my interest. Just as Meryl Streep's Miranda can scotch a whole collection with the purse of her lips, I am able to convey my disdain with a mild eye scrunch. My very perceptive stylist immediately dismisses my rejects and invites me to step into the changing booth with the remaining items.
;
As I try on each rather pricey but quality item (including a $240 sunset-red silk button-down that took me every bit of will power to remove from my body), we chat as two acquaintances might on their first day in the same college course. Each time I emerge from the booth, she puts her stylist hat back on, advising me on the fit and the is-it-working-for-me factor. She's happy to grab me additional sizes and styles when requested and is sympathetic to my qualms about forking over a couple Benjamins for something I might wear once every two months. The entire verbal interaction is natural, easy.
Not wanting to leave empty-handed lest she be offended, I settle on an off-the-shoulder slate gray shift dress for purchase, and we discuss what I'd like in my first shipment. One month from now, I'll be receiving a trunk (which I'm pretty sure is a cardboard box, but we'll give it to them) filled with selections for late spring/early summer. What I don't like I can send back, and I'm only out the $25 try-on fee. And anytime I like, I can come back and visit my fave stylist and even bring my husband along for a fitting. (Trunk Club, now owned by Nordstrom, actually began as a service for men in 2009.)
As my stylist strolls with me to the elevator, she hands me a little shopping bag with my dress tucked neatly inside and says she looks forward to my next visit. So do I.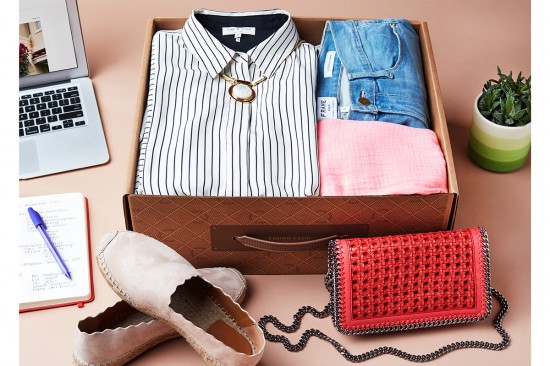 On the day my adorable little trunk arrived (a cardboard box fashioned as a 1920s suitcase with handle), the tiny Eliza inside my head jumped for joy while the standard-size me remembered that my bank account is nearly empty after buying a new house. As I opened the parcel and untied the lovely fabric cord around my pieces, a couple of salty tears considered departing from my eyes. Before me laid a long-sleeved Felicity and Coco sheath dress with a pink-and-blue jungle print for $118, a $49 blue-gray asymmetrical cold shoulder Gibson sweater made of the softest material known to woman, an $118 pink floral BLANKNYC bomber jacket and four other delicious items. Closing the lid on that box was one of my toughest challenges yet.
Though I'll likely be sending my trunk back in its entirety for financial reasons (but thankfully I have five days to make my final decision), I hope the folks at TC know that they really get me, and that this is only the beginning. I'll be back. It may take a second job, but I'll be back.