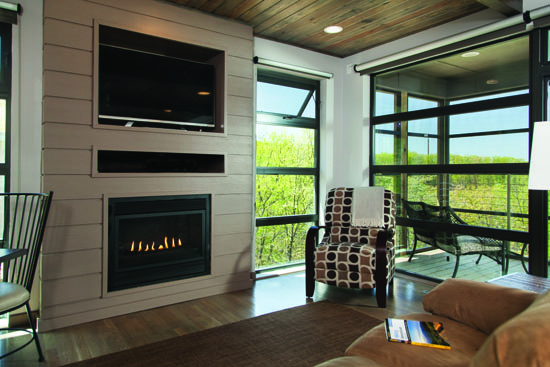 Imagine the tree house of your dreams—one with cutting edge furnishings and incomparable views. Would you wish for a fireplace, flat screen television and a secluded personal hot tub? Would it have a rainwater shower with a view of the woods, private balcony, small kitchen, and even motorized shades that descend with a push of a button? Could such a luxurious tree house exist? It does—in the Iris Inn's new mountain cabins.
At the crossroads of Skyline Drive and the Blue Ridge Parkway, the Iris Inn is a wonderland for guests seeking solitude, comfort and the beauty of nature. It boasts the company of Innkeepers Heidi and Dave Lanford, who have an uncanny ability to anticipate your needs and desires before you even think of them.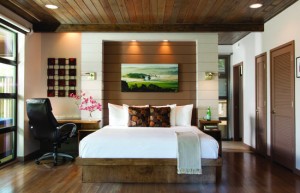 The new tree houses are their brainchild, and they've included every indulgence in these freestanding cabins built on a steeply sloping hillside. They are designed for couples yearning to feel pampered with amenities, and inspired by spectacular sunsets.
The Iris Inn also has a modern, multi-level guesthouse with rooms and cottages featuring soaring ceilings and Jacuzzi tubs. Perched on a ravine, most of the rooms face the Shenandoah Valley's textured hills and dales. The hectic world seems far away when guests nestle into a rocking chair on the deck, or read by the stone fireplace.
Adjacent to George Washington National Forest, the Inn will supply a picnic for guests exploring nearby hiking trails. One trail leads to Crabtree Falls, the highest waterfall in Virginia, and another, a wooden footbridge that crosses the Tye River. Within 30 miles of the Inn are 28 wineries and four president's homes. Situated between Charlottesville and Staunton, there is an abundance of artisan restaurants, boutiques, art galleries and bluegrass clubs. Or, head to nearby Wintergreen or Massanutten Resort for some skiing and snowboarding.
Frankly, it will be hard to leave the Inn after the hearty breakfast and lure of comfortable surroundings. Just hanging around the property you're likely to see wildlife—black bears, eagles, deer, fox, hawks and squirrels cavorting about.
The Lanfords will arrange private events, custom gifts, flowers, meals or an in-room massage. They host nightly wine gatherings for patrons in the Great Room; it's a lovely place to meet other guests and hear about their adventures. The innkeepers offer tips on local restaurants like Greenleaf, and maps to nearby sites. Free WiFi allows for optional connectivity.
Often, places fall short of our imagination; but guests at the Iris Inn usually leave with a vow to return. Luckily, the memory of a tree house on a mountain stays with you a long time. // The Iris Inn, 191 Chinaquapin Drive, Waynesboro, VA 22980; 540-943-1991; irisinn.com —Renee Sklarew
2.5-hour drive
Activities
(on premises):
Hiking / Wine tasting  / Mountain biking / Wildlife photography  / Birding
(off premises):
Craft breweries / Vineyards / P. Buckley Moss Museum / Touring presidential homes / Fly fishing / Quick access to Skyline Drive and Blue Ridge Parkway / Downhill, cross-country skiing and snowboarding / Shopping and art galleries / Frontier Museum / Blackfriars Playhouse Theatre
Rates:
$189-$279 per night
(winter rates)
Packages:
Sip and Ski: Includes two-night cabin stay, two full breakfasts and one boxed lunch to take to ski resort, lift tickets for two to Wintergreen Ski Resort, complementary wine tasting après ski. Dates: Dec. 1-March 30, 2014, Rate: $650
Sip and Spa: Two night cabin stay, two full breakfasts, one picnic lunch, in-room couples massage, private hot tub. Dates: Dec. 1- March 30, 2014, Rate: $800
(December 2013)