This week, we're looking forward to a beer history class in Fredericksburg, plus what we're reading and watching now.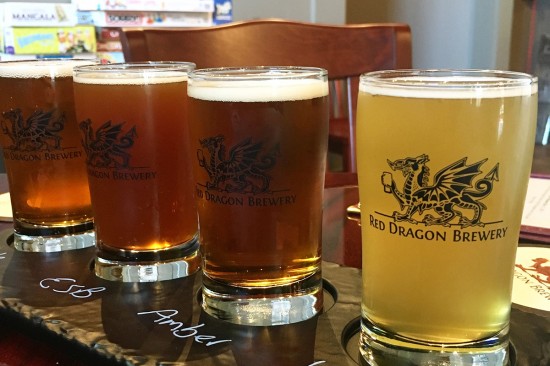 By Eliza Berkon, Winn Duvall, Stefanie Gans, Beth Kellmurray and Lynn Norusis
This week, Northern Virginia Magazine's editors are looking forward to a beer history class in Fredericksburg, plus what we're reading and watching now.
Crafty Ladies Beer 101
May 23, 6:30-7:30 p.m.
Avoid the mansplaining as Red Dragon's Jenny Thomas hosts a discussion on women in beer, specifically regarding Belgian history, styles and yeast, plus a tasting. –SG // Red Dragon Brewery: 1419 Princess Anne St., Fredericksburg
Lounging poolside no matter the weather
No matter the weather this weekend, I am going to the pool. If I have to be wrapped in a caftan or even a blanket under raining skies, I will be there. For some reason when summer comes calling, my mind retreats to the time I was in school: I think I get a break. Then reality hits that I still have to go to work each day. So I take any chance I get to lounge poolside. On my reading list this weekend is local author Karin Tanabe's latest tome, The Diplomat's Daughter. It won't be released until July (there are perks to being an editor), but you can look for a review in our July issue. –LN
Forget Silence of the Lambs
In my pursuit of new neighbor friends, I recently joined an Arlington book club, which meets this Thursday. Thanks to my loyal co-worker Beth, I now have a not-so-gently-used paperback of Remains of the Day, which I've never read, but I have seen the movie about 14 times. I look forward to lounging around my home and enjoying the words that inspired the 1993 cinematic romance between Sir Anthony Hopkins and Emma Thompson. And of course, I look forward to the wine. –EB
The second season of Master of None, the Netflix TV series from Parks and Rec actor Aziz Ansari, premiered a couple of weeks ago, and I'm late to the game in general. I watched the pilot but never returned to it, so now is as good of a time as ever to dig into the show that takes creative directorial inspiration and storytelling chances and has a deep affection for food. –BK
Taking over the dance floor at a wedding
I'll be enjoying a few extra days off this holiday weekend and heading back to my college town of Columbia, Missouri (M-I-Z!), to celebrate the marriage of one of my closest friends. I plan on fully indulging in the nostalgia of being back on campus and, most likely, shedding a tear or two during the ceremony—I'm a sucker for weddings. –WD
 Find out more of what's going on in NoVA this week at our things to do page.