The rock band is set to play in Celebrate Fairfax's '90s-centric lineup.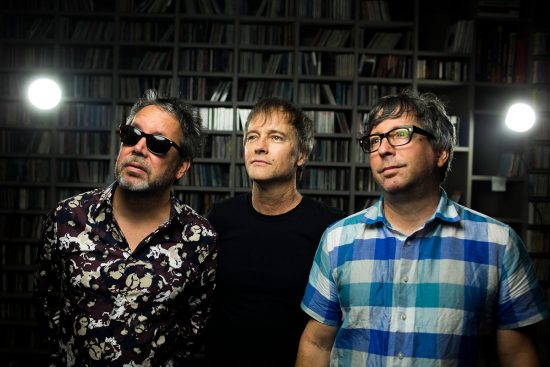 That second when the guitar solo wraps up, the band drops out and "Anyone could see the road that they walk on is paved in gold" rings out is '90s rock bliss brought to you by Fastball. The Grammy-nominated, Austin-based group rode a wave of hit songs, including "The Way" and "Out of My Head," early in their career and has continued to dish out a healthy serving of alt-rock tunes since then, including their new album, Step Into Light.
We spoke with singer Tony Scalzo in advance of the band's performance alongside Vertical Horizon and Everclear June 10, at the Celebrate Fairfax! festival.
Your first album sounds like Drivin' N Cryin' meets Green Day, and a track on your new album has a late Beatles vibe. Do you think your sound has evolved in the past 20 years?
Obviously the first album is pretty youthful pop-punk type stuff, and I think right away on our second album, All the Pain Money Can Buy, we got into some more diverse musical styles. As far as our music evolving over the last 20 years, I think it's just attributed to being older and more experienced and [having] a lot more writing behind us.
You're opening for Everclear and on tour with them now, but you also played with them in the '90s. Is this tour a little bit like a high school reunion or have you guys kept up a running friendship?
A little bit. No, we really didn't keep in touch with them over the years, but it's nice to be back with Art [Alexakis] and play shows with them. They've got a great big audience, and their audience seems to know all of our music, too. I don't know if I expected that, but it's been really great.
"Out of my Head" is short and basically just the chorus; you just have one verse. Yet it was in the Billboard Top 100 and was featured in Machine Gun Kelly's "Bad Things" last year. What do you think it is about that song that makes it so endearing?
Just the melody I guess. Simplicity. And if it was any longer, it'd probably be kind of boring I bet.
Austin is such a major hub for new music. What was the scene like in the '90s when you were coming up?
Things were very easy. We became a band pretty quickly, and within a few months, we were getting attention from the local music scene and our little local press that we had at the time and a little bit of local radio and just doing stuff around town, hitting South by Southwest. We got a situation to come out to New York for CMJ, and while we were there, we met with a rep from Hollywood Records, and he made an offer for a record deal. And we took it.
What contemporary bands are you listening to?
I listen to Maserati and Trans Am, kind of fusion rock, electronic fusion music, kind of psychy stuff, too. I like a lot of stuff that's kind of weird and big-sounding, goes off in different genres. I still listen to a lot of Beatles. I like classic rock and roll stuff, too. Elvis Costello, Nick Lowe kind of stuff. I really like Rae Sremmurd, that "Black Beatles" song. My son turned me on to that, my 5 year old. He's really into hip-hop.