Cleveland is a place of deep pride. The Great Lakes hub is experiencing a period of immense growth and revitalization.
Cleveland is a place of deep pride. The Great Lakes hub is experiencing a period of immense growth and revitalization, and upon arriving, a group of friends and locals were quick to offer help for the assignment at hand: what to see and do during a trip to The 'Land (the city's affectionate nickname). They offered their two cents on the best restaurants, festivals, museums and, inevitably, the great east versus west side debate. In that moment, and all the moments that followed during our trip, it was easy to see just where all that pride comes from.
Day One
The attraction of a road trip is the road itself—the way it seems to sprawl ahead endlessly, paving the way for an as-yet-unknown adventure. It's serendipitous then to make the very first stop on a road trip to Cleveland a history lesson that in part laid the foundation for the great American road trip.
After striking out from Northern Virginia, as you approach Cumberland, Maryland—the crowded, post-industrial town tucked into a valley and its surrounding hills—on Interstate 68, the highway begins to run parallel to U.S. 40, which aligns with the historic National Road. The National Road was the first U.S. highway built on the federal government's dime in the early 19th century, connecting settlers to the Midwest.
Follow I-68, passing a massive wooden frame just off the side of the highway that's accompanied by a sign proclaiming, "Noah's Ark Being Rebuilt Here!" (In fact, a pastor from Frostburg, Maryland, has been rebuilding it since 1976.) Soon, you'll connect with U.S. 40, crossing the border into Pennsylvania. On that somewhat narrow two-lane road, with trucks lumbering by and off-road signs imploring to "make coal great again," you'll arrive in Farmington, Pennsylvania, where you can immerse yourself in American history that predates the National Road but played a pivotal role in its making.
First, get lunch at the Stone House Restaurant and Country Inn. The restaurant was one of the many lodging accommodations founded during the National Road's heyday, offering respite to travelers. Today, you can get sirloin, rib-eye and pork chops, all sourced from the newly instituted butcher, Butcher Provisions, located right next door to the restaurant.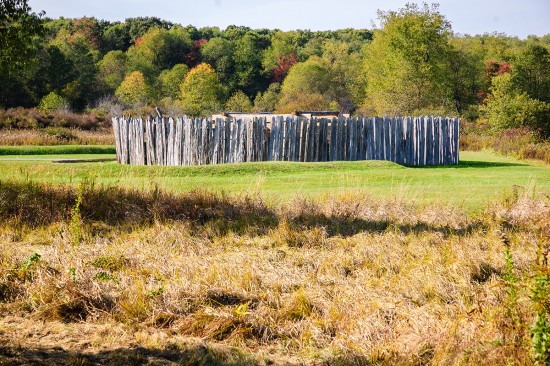 After lunch, backtrack slightly on U.S. 40 to visit Fort Necessity. A short walk from the visitors center, you'll find a reconstruction of the fort built under the guidance of George Washington and the site of one of the very first battles of the French and Indian War in 1754. The battle was Washington's only military surrender in his career.
Along U.S. 40, you can also stop at Braddock Grave, the gravesite of Gen. Edward Braddock, another key figure in the French and Indian War whose expedition near Fort Necessity ended in disaster. He was buried near the Great Meadows at Fort Necessity, where Washington officiated, describing Braddock as having "good and bad qualities" that were "intimately blended" (which would make for a decent modern-day Twitter bio).
Nearby, you'll see Mount Washington Tavern, like Stone House, another of the taverns and inns that lined the National Road.
Depart from Farmington and set your GPS for Youngstown, Ohio, driving past Pittsburgh, out of the mountains and across the border. If you don't want to wait until Cleveland for dinner, stop at Suzie's Dogs and Drafts downtown near Youngstown State University. A major draw for college students (but also great for little kids), the menu encourages customers to build their own gourmet-style hot dogs with a cartoonishly escalating menu of toppings: blueberry mustard, ramen crumbs, mashed potatoes and gravy and, um, crickets. More conservative diners can pick from a selection of house recipes.
If you're not stopping for a meal but just need to stretch your legs after five-plus hours in the car, head to Mill Creek Park. One of the largest Metro parks within city limits, there are endless and varied corners to explore. A covered bridge leads to the park's namesake mill, the Lanterman's Mill, which sits on the edge of a waterfall and offers one of the highest vantage points in the park. At the northernmost corner of the park, you'll find the Fellows Riverside Gardens, outfitted with flowers, plants and trees surrounding a water fountain and gazebo. More walking trails sprout from the Ford Nature Center, a stone mansion with exhibits on local nature and wildlife.
If you didn't grab an early dinner in Youngstown, make your first stop in Cleveland (another hour from Youngstown) at Great Lakes Brewing Company in the Ohio City neighborhood. Great Lakes is the state's first and now largest microbrewery, and it has served as training ground for local brewers who have gone on to launch Market Garden (also in Ohio City), building up Cleveland's robust lineup of breweries and making it a veritable beer town.
Great Lakes now boasts an expansive facility with upstairs and main-floor dining rooms and its original barroom in the basement. In the warmer months, the first-floor dining room opens up for alfresco dining. The menu has come to rival what's on tap, offering rosemary-infused tater tots the size of a small child's fist and chicken Kyrie (as in the Cavs' Kyrie Irving because one does not say the name Curry within Cleveland city limits).
But you came here for the beer. The Dortmunder Gold lager is a year-round fan favorite, but in spring and summer, you can drown six hours in the car in the Lake Erie Monster IPA or the Sharpshooter Session Wheat IPA.
After dinner, find your lodging at The Hyatt Regency downtown. The hotel is housed in the historic Arcade, a Victorian-era architectural wonder. A feat of precision and symmetry, the Arcade looks like the inside of the Titanic (if the 1997 movie is to be trusted as a historically accurate work), with ornate glass ceilings, loping balconies and golden archways. The Hyatt can be found in the larger of the two buildings along with boutiques and a hall where wedding and quinceanera parties can often be spotted. The smaller of the two buildings is reserved for retailers only.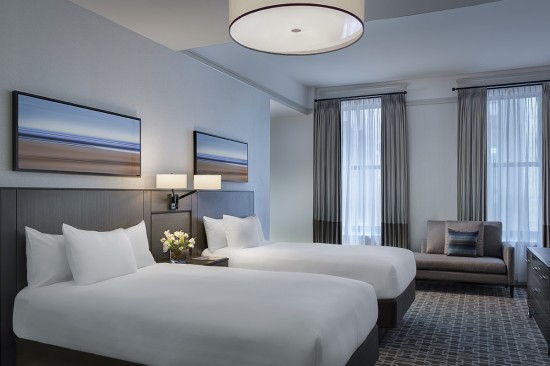 Day Two
Get an early start on your second day and head back to Ohio City for breakfast at West Side Market. Dating back to the mid-19th century, the still-bustling indoor and outdoor market (open every day except Tuesdays and Thursdays) is now divided into two spaces: a smaller adjacent building dedicated to produce and the original structure, which hosts all manner of local vendors selling fresh meats, pasta (handmade noodles, ravioli, gnocchi), spices and herbs and pastries and desserts (including those in the shape of intricate, cream-filled swans). Many of the stalls also offer prepared foods, including Mexican, Cambodian, Greek, Hungarian and Middle Eastern cuisines. You'll want to visit Crepes de Luxe for street-style crepes—whether savory or sweet is entirely up to you. Pair it with a cup of coffee from City Roast Coffee & Tea's stand and then find the nearest stairwell to eat your on-the-go breakfast on the second-story balcony for a bird's-eye view of the market and all the jostling patrons and vendors within its white subway-tiled walls and under its red-brick dome.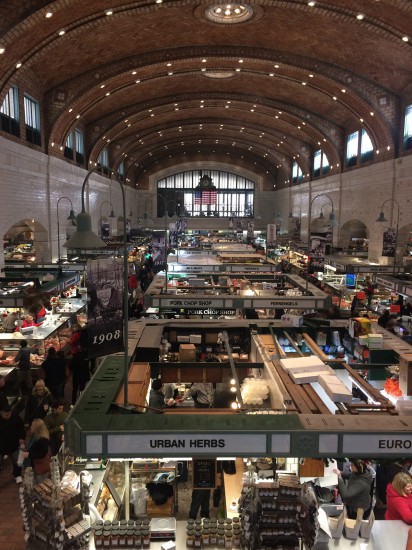 After breakfast, drive toward Lake Erie to Edgewater Park. The beach offers one of the best views of the downtown skyline, plus there's a photo op waiting at the Instagram-friendly Cleveland sign at the western edge of the park. It's one of three of its kind installed across the city in 2016.
Grilled cheese has long since gone gourmet, and Cleveland cashed in more than a decade ago with Melt Bar and Grilled. Now, there are seven Melt restaurants across the city. The original Lakewood location is fashioned like a dimly lit dive bar with crowded, quirky wall art and a drop tin ceiling. The sandwiches are precariously stacked, inviting those prone to the Diners, Drive-Ins and Dives- and Man v. Food-style challenges (both shows have made stops at the restaurant). For lunch, you can stick with a classic, no-frills order, but Melt is known for piled-on options like fried eggs, potato hashes, mac and cheese, meatballs and lasagna—not necessarily all at once, but this is the Midwest, and the further in you get, the bigger and more fried the food gets.
Cleveland is known by outsiders for the Rock and Roll Hall of Fame. It rightfully comes highly recommended for its deep archive of music ephemera (and receives eyebrow raises for its inscrutable yearly induction process), but you might also consider venturing to the east side to the similarly lauded Cleveland Museum of Art. In the museum's massive atrium, which casts a grid of sunlight across the gray space, decide which exhibits to explore. The permanent collections span history, geography and medium with pieces dating back to the 16th century; American, European, Chinese and African exhibits; and paintings, sculpture, photography and textiles. The museum has acquired pieces by Boticelli, Goya, Dali, Renoir, Monet, van Gogh, Picasso, Warhol, Pollock and O'Keeffe. We challenge you to not almost walk by Sol LeWitt's Wall Drawing #4 in the contemporary art exhibit without noticing it. It's a barely there piece consisting of finely and precisely drawn black pencil lines.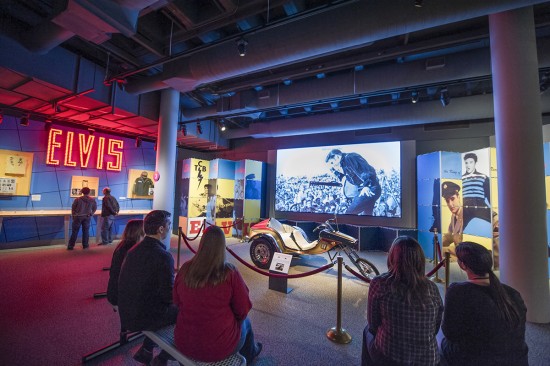 The museum also has a rotating crop of temporary exhibits, which have recently showcased the works of Brooklyn street artist Jean Michel-Basquiat and contemporary German artist Albert Oehlen.
Cleveland is a beer town, but it's also a food town. If you consult locals, there's a very good chance they will partake in a tennis match, volleying back and forth dinner options: Barrio, Noodlecat, Mabel's BBQ, Lola, Butcher and Brew, Pura Vida, Urban Farmer. Mabel's and Lola are just a couple of the Cleveland ventures helmed by Michael Symon, the James Beard Award-winning chef and Food Network frequenter, but for dinner, you might try the flagship restaurant of another James Beard-recognized Clevelander, Jonathan Sawyer. The Greenhouse Tavern downtown is a narrow spot with vintage bicycles suspended from the ceiling and shelves of VHS tapes in the entryway. It's not all just for hipster-fied show, though. Sit down at the bar for a Powderfinger (bourbon from Columbus' Watershed Distillery, applejack, vermouth and allspice) or Sour Shirley (Watershed vodka, house grenadine, frothy egg white, lemon and lime), and you'll be front row for one of the regular movie screenings. (That one American Pie scene—you know the one—could very well roll during drinks.) For dinner, which can be had upstairs or on the rooftop patio, there are the confit chicken wings to start and, for your main, bone-in pot roast, pan-fried pork chops or chicken pot pie sans chicken and instead substituted with celery root, fennel, turnip and potato.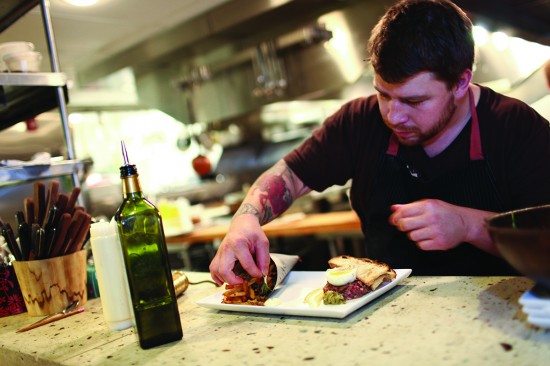 After dinner, walk down Euclid Avenue to Playhouse Square, Cleveland's theater district, to see the marquees and the giant outdoor chandelier that hangs over the corner of Euclid and 14th cast a neon glow over downtown. You can also catch a show—plays, musicals, comedy and concerts—at any of the nine theaters associated with the district.
Get your nightcap at Society Lounge, an underground affair that arrived on the heels of the Mad Men-driven flood of schmaltzy, purist craft cocktail bars. There are besuited mixologists who ride for orange- and lemon-zest garnishes; there are red leather chairs and red tufted couches; there is a jazz age-inspired mural. Society Lounge unabashedly banks on there being a market ready to indulge its nostalgia, so of course, you can get a classic whiskey sour or mai tai, but things get interesting in the bar's original concoctions: a mango Moscow Mule with Jamaican jerk-infused vodka, a gimlet with muddled cucumber, an Old Fashioned with cocoa nibs.
If it's a hard pass on nostalgia, go to any number of the townie bars playing the Black Keys a little too loudly and you'll find a different kind of authenticity. Clevelanders are a proud people, and on any given night you're likely to hear, like we did, someone say, "Cleveland, it's where dreams happen."
Day Three
If you can buy some time before hitting the road again, make your last stop in Cleveland at Soho Chicken + Whiskey for brunch back in Ohio City. There are plenty of brunch places in The 'Land, but here, you'll get Southern flair in powdered-sugared chicken and waffles and butter-poached shrimp and grits alongside morning pick-me-ups like iced coffee with rye, Kahlua and chicory or a generous bloody mary with bacon salt and a beef-jerky straw.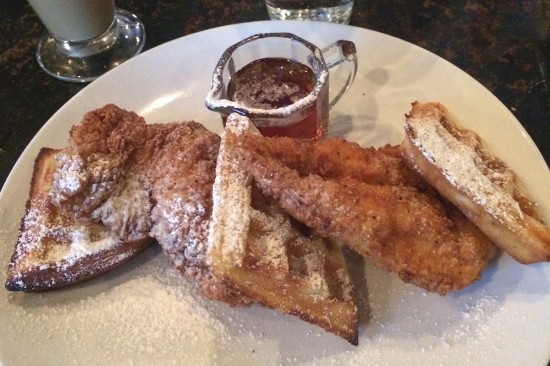 After saying fond farewells, on your way out of Cleveland, take a detour west to Oberlin. Hidden amid stretches of farmland, the Ohio city is home to Oberlin College, known for one of the longest-running U.S. music conservatories; a passionate, politically active student body that once forced a popular indie-rock band to change its controversial name; and three Nobel laureates, seven Pulitzer Prize winners and a host of award-winning actors and musicians among its alumni.
Outside of the school year, Oberlin is a sleepy town with tree-lined roads and austere, gray-stone campus buildings with all the hallmarks of a college town. Dig through crates of old and new records in the second-floor Hanson Records. There's a large noise section, a nod to the owner's days in a Michigan noise-rock band, but there are classics to be found, too, like the odd Carpenters and Simon & Garfunkel record.
Cross Main Street to Ratsy's Store, an eclectic boutique of vintage clothing and quirky knickknacks: superhero socks, saturated acrylic portraits (sometimes of cats) and, if you're lucky, a Tiffany pin (as in the mall's very own). Before climbing back into your car, stop at Slow Train Café for coffee (which hails from a trio of Cleveland roasters) and a housemade snack (cookies, pastries).
It's time to set your (proverbial) compass southwest toward home, but break up the six-hour drive halfway in Somerset, Pennsylvania. After climbing the Pennsylvania mountains and driving past Pittsburgh once again, you'll be able to spot Somerset from the turnpike by its prominent historic courthouse. Once you arrive in town, a short distance from the courthouse, bookend a trip that began with a history lesson in the birth of American road trips with one final, fitting stop at Summit Diner. Situated between a laundromat and a motel, the classic '50s-era diner's aluminum siding and neon track lights usher travelers to pull over their cars. Inside, stools line the counter facing the order up-style kitchen while vinyl booths sit on the opposite side of the narrow restaurant. A wooden board announces the selection of homemade pies (apple, Boston crème, cherry, lemon meringue), while a working jukebox stands in the corner. Naturally, all-American is what you'll find on the menu here: burgers, fries and the ilk. Dishes aren't served at the car window by way of roller skates, but you could very well see a muscle car parked out front.
Another three hours in the car, back over the Pennsylvania-Maryland border, past truck stops and toll roads, and it's back to NoVA, where you can promptly post the pic you snapped of the Cleveland sign straight to Instagram. The caption might not be the freewheeling On the Road-esque stream of consciousness, but it'll get the America-discovered-by-road message across.