Knoxville is a mere seven hours from NoVA by car—time easily well-spent. The town is a jewel. Life is slow. Intentional. Authentic.
As a middle-aged regular at the Last Days of Autumn Brewery swills his craft brew and leans forward on his barstool, he reflects on the ways he thinks this Tennessee city bests a popular North Carolina town.
"Asheville is the girl who knows she's pretty. Knoxville is the pretty girl who doesn't know it."
Knoxville has a great music scene, he continues. A genuine sense of community, with reasonably priced homes. Dozens of niche restaurants. A burgeoning microbrew industry. And it's still a bit of a secret to many potential tourists.
The Scruffy City, as it's affectionately called among natives, is a mere seven hours from NoVA by car—time easily well-spent. The town is a jewel. Every door of its restored turn-of-the-century buildings welcomes you in. And every resident is willing to linger for an extended conversation.
Life is slow. Intentional. Authentic.
Day One
As you head out from Fredericksburg toward Charlottesville along state Route 20, pop on a podcast and enjoy the series of interesting sites you pass by, including a sign welcoming you to Orange County, sure to amuse any fan of early 21st-century teen television. Consider taking a stretch break at James Madison's Montpelier home, which you can also tour if you've got the time.
Around the moment your second podcast wraps up, you'll be pulling in to Charlottesville, a city that warrants its own trip if you've never been. At one end of the vibrant Downtown Mall sits Mudhouse, a minimalist coffee shop that's a favorite with local students, families and couples. Dark wood beams line the ceilings, and local artwork drapes the white gallery wall near the entrance. Expect a wait as lines are common, but rest assured you'll soon have a creamy and potent beverage, like the nutty and bold Bora Bora latte. Be sure to grab a slice of veggie quiche if you need a nosh, but take it to go because there's lots of traveling ahead.
As you continue your drive down South, you'll be enveloped in mountains and trees for a bit, so crack the window and breathe in some of that pure air as you spy cows lounging in the grass.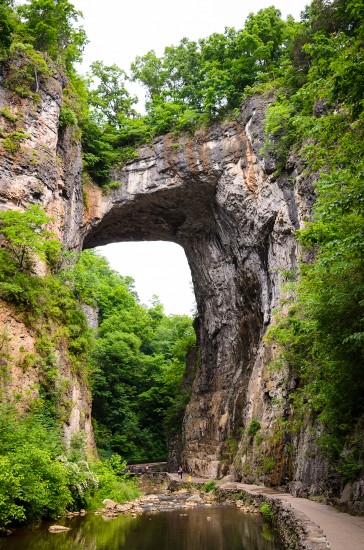 In a few hours, you'll be nearing Natural Bridge. The first thing you need to know about this site is where it is. Don't make the mistake of simply typing Natural Bridge into your GPS or you may be led down a winding and somewhat treacherous road to a tiny town on a hill. Instead, type in the exact address (6477 S. Lee Highway, Natural Bridge) and keep an eye out for the visitors center. Once there, pay the admission fee and hike to this natural wonder that is more than 200 feet tall and was once the property of Thomas Jefferson. Then get back in the car, crank up the air and head to Roanoke for lunch.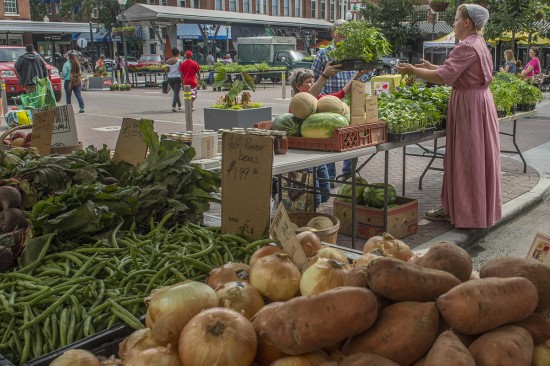 If you've always wished you'd been cast in Back to the Future, you're in luck: Downtown Roanoke looks pretty similar to Hill Valley. Home to the Historic Roanoke City Market, the area is also replete with retailers in refurbished historic buildings. Inside one of these charming brick structures is On the Rise Bread Company, a great stop for satisfying lunch fare. Try the rosemary potato soup for something soothing or ham and cheese on a fresh baguette. Also notable are the shop's cheddar wafers, a sort of gourmet chip/Cheez-it hybrid laced with cayenne pepper and pecans.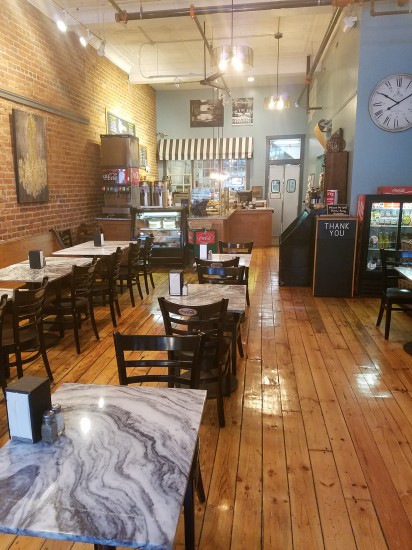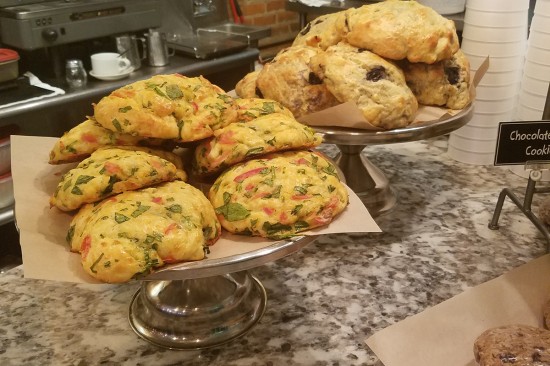 Turn on an energizing playlist for the remaining few hours to Knoxville, and be thankful you have time to work up a dinner appetite—this is definitely a foodie town.
First stop: your accommodations. The recently renovated Oliver Hotel feels special from the moment you enter. A charming lighted sign floats over the entrance, outfitted with an oversized framed glass door. Once you're inside, the friendly concierge will be glad to provide a summary of the evening's nearby entertainment. On your way to the room, pick up an apple from one of the wooden bowls in the hallway or, better yet, a complimentary mini brownie from the Oliver Royale restaurant that may be waiting in your room. Pour yourself a glass of Blanton's whiskey from the minibar tray after a long day's drive. And then get ready to drink some more.
One of the advantages of staying at the Oliver is its proximity to a secret speakeasy, the Peter Kern Library, located just off the hotel lobby through a sliding door. (Visitors not staying at the Oliver should enter through the alley entrance, just under the red light.)
Knoxville historian Jack Neely details Peter Kern's history as a Confederate soldier, "ice cream saloon" owner and public-event proponent in his book on the city's recently revitalized Market Square.
This barely lit hideaway prides itself on craft drinks and a finely crafted experience. Nearly every aspect of the bar is designed for the bibliophile: The walls are wood-paneled, the shelves are stacked with books, the menu is embedded in a musty encyclopedia, and the check is paper-clipped to a library checkout card. As you lounge on your banquette, choose from literature-driven cocktails like the Mr. Darcy, a $12 fusion of Paringa sparkling shiraz and Luxardo limoncello listed in the menu above a call number and quote from Pride and Prejudice. The Holly Golightly may be the best drink you've ever sipped, a frothy concoction of strawberry- and raspberry-infused vodka, lavender cordial, lime juice, strawberry bitters, prosecco and a raspberry swimming on top.
Once you've lingered on a libation, head over to Insta-worthy Gay Street for dinner at Knox Mason. Along the way, you may be lucky enough to catch some street performers, such as a gorilla dancing to Rick Astley's "Never Gonna Give You Up." Make a reservation if you can as this small, narrow restaurant fills up quickly. You can also grab a seat at the bar, offering you a full view of your meal preparation. The seafood chowder with smoked shrimp and catfish (one of their specials) is a welcome departure.
Day Two
To get a quick overview of Knoxville's downtown and start your day on a healthy note, go for an early morning outdoor run. Try jogging over to the Old City by way of Gay Street and Central Street. The area was inundated with industry in the second half of the 19th century, following the introduction of the railroad. Central Street has a rather storied and violent past, also chronicled by Neely, including a 1901 police showdown with Butch Cassidy's friend and fellow outlaw Harvey "Kid Curry" Logan. Cormac McCarthy also wrote about Knoxville and the Old City area in his novel Suttree, set in the 1950s. Many of the Old City buildings were rehabbed between the 1980s and early 21st century, including the 1888 saloon called Sullivan's that's now home to the Lonesome Dove restaurant.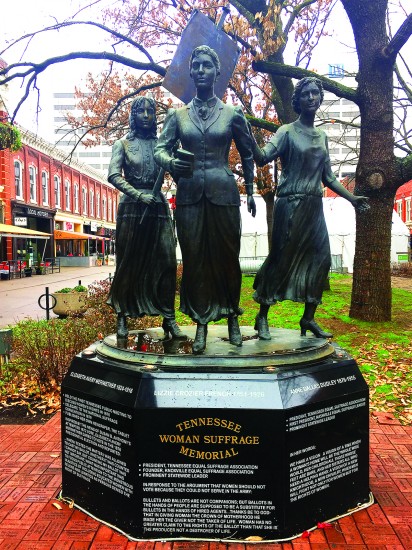 When you get back to the Market Square area, do your post-run stretches near the Tennessee Woman Suffrage Memorial. Constructed in 2006, the bronze sculpture depicts three local suffragists. Once you've taken that in, do an about-face and head into Krutch Park—named for Tennessee Valley Authority photographer Charles Krutch—where you'll find large outdoor sculptures, shade trees and a pleasant waterfall.
For breakfast, step into the nearby Tupelo Honey Café, a Southern café with several outposts in the area (including one in Arlington for your enjoyment back home). The expansive restaurant welcomes families and pets, dispensing dog treats at the hostess booth. Once at your table, sip on a Queen Mary—packed with pepper-infused moonshine, pickled okra, maple-peppered bacon and more—and munch on a warm biscuit while you peruse the menu. The debutante omelet is a fresh selection and will quickly make you realize that basil should be an ingredient in every egg dish. And don't forget to order a sweet potato pancake (Thanksgiving in breakfast form) for the table.
To walk off your meal, take a stroll around Market Square, an area born in the mid-19th century and reimagined in the early 21st. The historic buildings now house restaurants, bars and specialty shops, and the outdoor space is an ideal locale for people-watching. And if you're there on a Wednesday or Saturday, enjoy the array of food and artisan booths at the Market Square Farmers Market.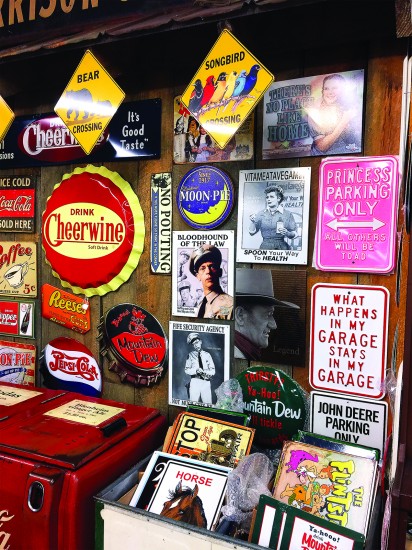 As you continue your walking tour of the town, hop over to Gay Street where you'll find the Mast General Store. The company's first storefront opened in the late 1800s in Valle Crucis, North Carolina, and later expanded to several locations throughout the South. The Knoxville branch, which arrived in 2006, is a bit like an overblown Cracker Barrel gift shop, loaded with dry goods, toys, clothes, University of Tennessee gear and camping supplies. Enjoy two floors of Southern charm while you examine their wares, and pull up one of their many rocking chairs when you tucker out.
For a quick pick-me-up, check out the nearby Juice Bar. We Got the Beet has a kick of ginger to rev up any weary traveler. Then amble back over to Gay Street and proceed to the Museum of East Tennessee History. Be prepared to lose yourself in the fascinating permanent exhibit that takes you from the early days of the state through the Civil War era (featuring East Tennessean Andrew Johnson) and the 1982 World's Fair, held in Knoxville. (Incidentally, the 266-foot-tall Sunsphere built for the fair is a popular attraction in walking distance of the museum.) Take special delight in the exhibit's spotlight on local music, featuring Gibson mandolins and a red dress worn by Dolly Parton.
By the time you've wrapped up your museum visit, you may need a quick bite. If so, return to Market Square for lunch at The Tomato Head. This local staple, opened in 1990 by chef Mahasti Vafaie, looks like a nicer Ikea cafeteria but with gourmet food. The Southwestern salad is surprisingly flavorful, thanks to housemade dressing. And the goat cheese and Roma tomato pizza is unbelievably fresh and flaky.
Once you've paid the bill, you'll need to make the challenging choice between a post-lunch nap and a pub crawl. If you opt for the latter, you'll be glad you have a full stomach; there's a lot of drinking to do.
Knoxville's beer scene is still in its infancy but is already impressive. With about a dozen craft breweries now in the city, the Knoxville Area Brewers Association released a map and moniker in 2016 dedicated to promoting their success: the Knoxville Ale Trail.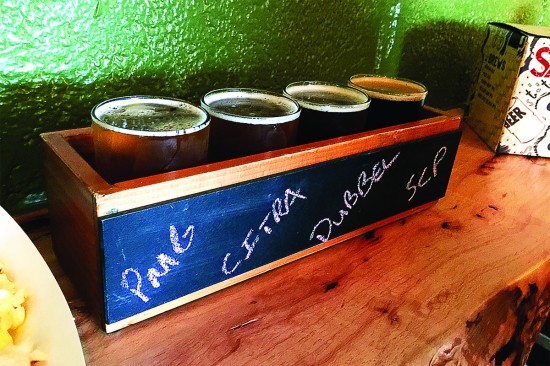 For your first stop on the trail, head about a mile down the road from Market Square, through the rubble of long-abandoned warehouses near the railroad, until you stumble on the Last Days of Autumn Brewery. Imagine your best friends opened a microbrewery, and you'll be picturing this place. The interior sports bright green walls, picnic tables near the entrance, an L-shaped bar fashioned from knobby wood and bartenders who are perpetually laughing. Order a beer sampler that includes the salted caramel porter, and grab a basket of free popcorn while you're at it.
Up next, visit the Crafty Bastard Brewery about a half-mile away. Tucked away from the main drag in a large warehouse, this no-frills setting makes the beer the focal point with varieties that are nothing if not inventive. Take a seat at the bar and try a hop candy IPA or Juan Hop Valdez coffee IPA. And if someone in your party is nursing or expecting, hand them a complimentary nonalcoholic spicy ginger ale. There may also be an event to join, as the bar hosts live music, animal-rescue fundraisers and the occasional adult coloring contest.
If you have room for a bit more beer, head back to the Old City on the way to dinner. A brand-new microbrewery, the Pretentious Beer Glass Company pours a selection of local brews and their own brand of kombucha and soda, most from mustachioed taps. On the other side of the wall sits a glass studio with shelves of decorative items and—a must-see—a small collection of handmade beer glasses in amusing shapes. What's more, they have housemade corn nuts. Corn. Nuts.
You might recognize the name Babalu from the eponymous song's ubiquity in I Love Lucy, and that's the intended reference here, where the bathroom doors read Fred and Ethel. The "tacos and tapas" establishment (popping up in a few Southern towns) delivers on aesthetics, with a grand bar bordered in colorful concert posters. And the food is nearly as scrumptious, most notably the camarones tacos, served in blue corn soft tortillas and "comeback sauce." You'll be coming back.
But for now, head back to the Oliver for some well-deserved shut-eye. (Unless you'd like to squeeze in a quick round of bowling at Maple Hall next to the restaurant.)
Day Three
Let the birds outside serenade you for a few moments when you wake to stave off the last-day-of-vacation blues. And then, once you're ready, head over to Gay Street for a light French breakfast you can tote with you in the car.
Charming framed chalkboard menus climb the walls at The French Market, listing an endless assortment of sweet and savory crepes and other French bakery items. Their chocolate croissant rivals those of Paris, crumbling in your mouth as your tongue reaches the dollop of chocolate nestled in the center. The mushroom and caramelized onion crepe is equally decadent. But the real treasure is the lavender vanilla latte, fusing two soothing scents into a creamy caffeinated beverage.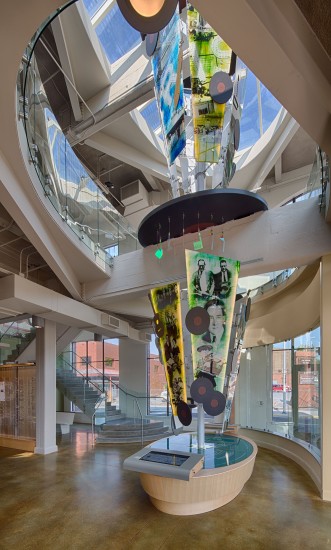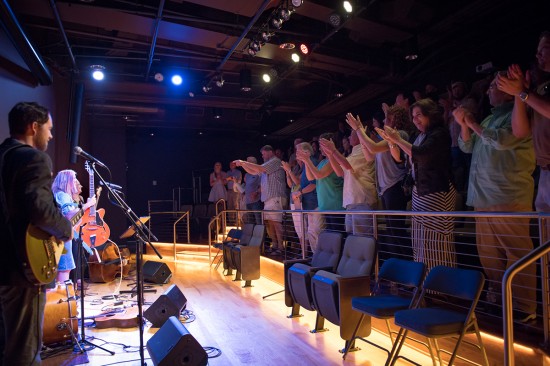 On your way back to NoVA along Insterstate 81, you'll have your pick of potential detours, including the Davy Crockett Birthplace State Park and the Birthplace of Country Music Museum. You'll also be privy to many bucolic scenes to help distract you from the bustle of urban life that will soon return.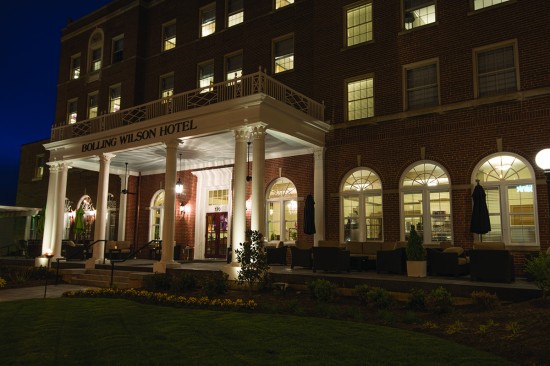 For lunch, consider stopping in Wytheville. On your way into town, snap a photo of the Wytheville Office Supply Store, which flaunts what may be the world's largest pencil on its exterior. Soon after, you'll reach the Bolling Wilson Hotel, named for Edith Bolling Wilson. The former first lady—considered by many historians to be an acting president after her husband suffered a stroke—was born here in 1872 and grew up in the house across the street from the inn. Don't miss the time capsule monument out front, slated for exhumation on Jan. 1, 2100.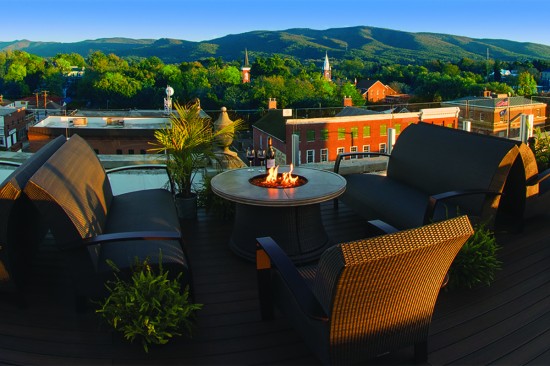 Just past the hotel lobby sits Graze on Main, a restaurant with rather modern fixtures for a town that appears to be lodged in the 1950s. The crabcake sandwich satiates, but even more notable is the series of cow portraits and the large illustration of sheep grazing outside the White House. The hotel was once called the George Wythe (who also inspired the name of the town itself), a signer of the Declaration of Independence and law instructor for Thomas Jefferson. A pair of educational displays in the lobby offers more information on the inn's early days, and nearby, you can say hello to the Bolling canaries: the Judge, Annie Lee and Bertha. A placard beside the cage states that Edith routinely cared for her grandmother's 26 canaries.
When you leave Wytheville, you'll be a few hours away from NoVA. If you need a refresher along the way, pull over in Lexington, home to the sprawling Virginia Military Institute. The Lexington Coffee Shop is good for a quick cup, and Sunday's Child is ideal for last-minute gifts.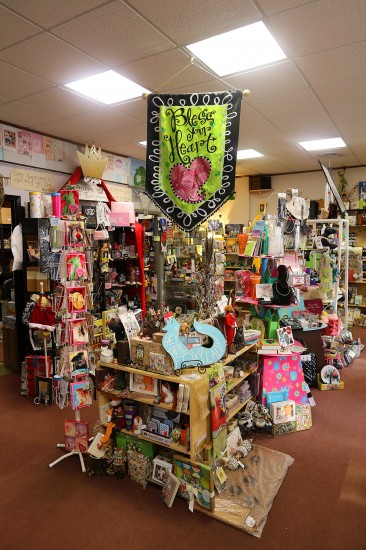 And as you sip your tea on that final leg of the trip, take a moment to observe the scene outside your windows. The sun may soon be setting on one of your most memorable getaways.