For decades creative types have been drawn to the Catskill Mountains of New York, and one can understand the moniker after just a day in what's now referred to as the Hamptons of the mountains.
For decades creative types have been drawn to the Catskill Mountains of New York. Artists flocked here during the mid-19th century Hudson River School art movement that was influenced by romanticism and focused on landscape painting. Musicians converged during the '60s for America's famous Woodstock Festival. And today it is referred to as the Hamptons of the mountains. One can understand the moniker after just a day in the small towns that are escapes for New York's creatives.
Day One
Don't worry about the traffic that you may sit in on Interstate 495 or I-270; the congestion and stress is about to slip away. Travel the 54 miles to U.S. Route 15 North, and here you'll start to see how the majority of Americans live: open stretches of green fields with small towns popping up along the way.
Two and a half hours into the trip, after passing alongside Gettysburg and York and over the Susquehanna River, you'll come to your first stop: Lancaster. Dismiss the stereotypes you may have of the area that is mainly known as Amish country. While there is plenty to learn about the traditionalist Christians who reside here and drive the horse-drawn buggies, the downtown area is an urban oasis among farming towns.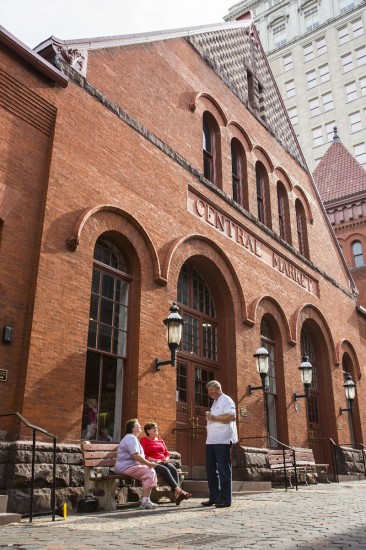 The first sign that you are entering a densely populated space is the drive alongside Clipper Magazine Stadium, the 6,000-seat baseball park that is home to the Freedom Division of the Atlantic League's Lancaster Barnstormers. Follow along North Prince Street to enter downtown, a bustling network of brick buildings that are home to local boutiques, trending restaurants and the nation's oldest farmers market, Lancaster Central Market, your first stop. More than 60 vendors call this indoor market home and offer everything from regional foods (Pennsylvania Dutch sausage, scrapple, headcheese and preserves) along with daily produce, meats, souvenirs, collectibles, sweets and snacks. This Romanesque building has been open and running for 120-plus years and is the perfect stop for stocking up on provisions for car snacking.
An early lunch calls for a stop at Annie Bailey's Traditional Irish Pub & Restaurant, an authentic pub that is a favorite among locals. Start with a cup of five onion soup (sweet onions, leeks and Irish ale with a touch of cream garnished with blue cheese croutons) or a plate of Irish nachos before diving into a lunch of gourmet sandwiches or burgers, or maybe an Irish favorite like bangers and mash or fish and chips. You can dine in the Victorian Dublin-styled restaurant with a pub that was constructed in Carrick then shipped to the U.S., or you can enjoy the outdoor setting.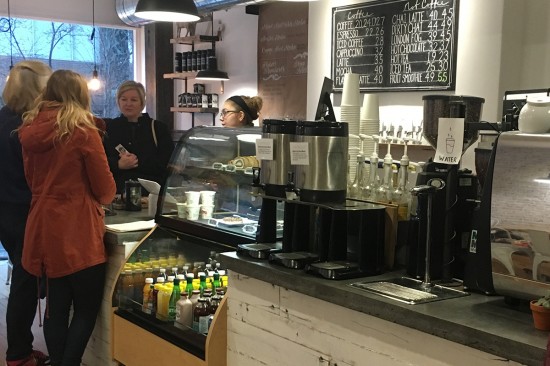 Walk off your lunch with a stroll to West Orange Street's Cafe One Eight a couple blocks away. Whitewashed brick walls with blond wood tables and metal stools are a breath of fresh design that leave all the attention to the bevy of espresso drinks that will get you through the next few hours of driving. And pick up a baked good (we suggest the peanut butter cookie) for a sweet sensation in the car.
Take in the fresh air with a walk back to the car and then head northeast. You're back to green fields that stretch to the horizon.
Driving north through Allentown and Bethlehem, fields turn to forests. As you navigate through state game lands, you may catch yourself wondering if you've gone the wrong way with signs declaring the state park as part of Delaware. Don't worry, you're in Delaware County. About three hours in you'll get to Lackawaxen, Pennsylvania, and cross the Roebling Bridge, the oldest existing wire suspension bridge in the nation. Cross over Roebling's Delaware Aqueduct, and you've made it to New York. Sixteen more miles and you're at the next stop on this journey, the small waterside town of Narrowsburg, New York.
Stretch your legs as you walk the small town that is home to unique boutiques filled with curated pieces for both attire and home goods. Your first stop should be Nest at Narrowsburg, a shop owned by Anna Bern, a former art director at W and design director at Vogue. Bern has honed her design sense into the 1,700-square-foot store that carries beautiful caftans, delicate jewelry, ornate lighting and minimalistic furniture along with Turkish rugs and Moroccan blankets. Next door, grab a cup of joe at The Tusten Cup and chat with the locals who frequent the java shop. Hop across the street and browse the River Gallery, owned and operated by former Manhattanites who also come from New York's fashion elite, both owners having worked at design houses including Versace, Yves St. Laurent and Valentino. The shop holds an eclectic mix of local artists, antiques, handcrafted jewelry and furnishings. A couple of doors down, check out the socially conscious clothing at Mayer Wasner, which features apparel focused on comfort with a nod to trending minimalism. Or browse the books at One Grand, a bookstore opened by journalist and former editor of Out magazine Aaron Hicklin.
Hungry? You're in luck in this small town. The Heron is a farm-to-table establishment started by a Culinary Institute of America grad and a TV producer who met on the set of Food Network's Inner Chef with Marcus Samuelsson. It is the place for a great sit-down meal of dishes designed with the local resources and displayed in appetizers like homemade chicken liver mousse and Chinese chicken wings to main fare such as Allen Brothers' 10-ounce New York strip steak and herb-roasted local chicken. Want something more casual? Head down the street and around the corner to The Laundrette, a gourmet wood-fired pizza joint with views overlooking the Delaware River.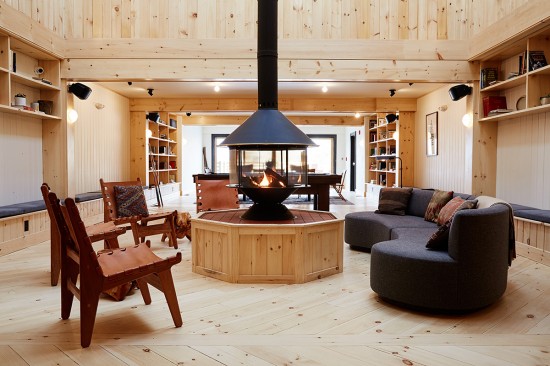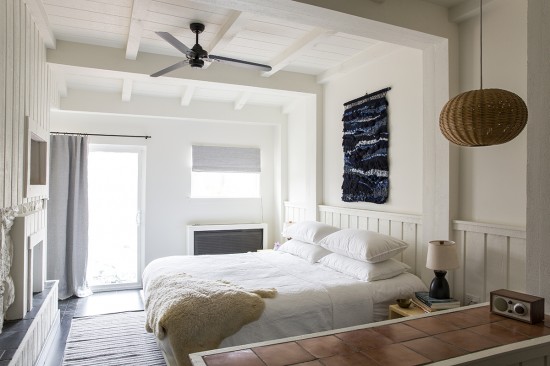 Before you head out of town, pop in to Narrowsburg Fine Wine and Spirits, where Ron and Joan Santo are on hand to help you choose a bottle or two to indulge in once you reach your final destination of the night: Scribner's Catskill Lodge.
Sitting at the base of Hunter Mountain is this chic boutique hotel that reopened this past year. What was once an old 1960s motor lodge has been reimagined into a luxurious, modern oasis complete with 38 Scandinavian-designed rooms. While the rooms themselves are minimal—beds appointed with fine linens; side tables with a complimentary offering of New York hard cider, oranges and a pair of books hinting at the type of stay you can have; a bathroom; and some with a fireplace, sunken lounge area and loft—the communal areas call for reflection and socialization. The main heart of the lodge is the lounge area that spreads the length of the hotel with walls of books—pay attention to the pairings as they will offer juxtaposition of thought on what the authors are really saying in their tomes—a circular fireplace, cozy seating areas and a billiards area for gaming. Expected this summer is a pool with a spa and gym still in development. Step out onto the back deck and take in the views of Hunter Mountain; it is the focal point that overtakes the horizon as you make your way to relax at the outdoor fireplace. Or take advantage of the imbibing at Prospect, the in-house bar and restaurant offering a bevy of cocktail options and locally sourced fare.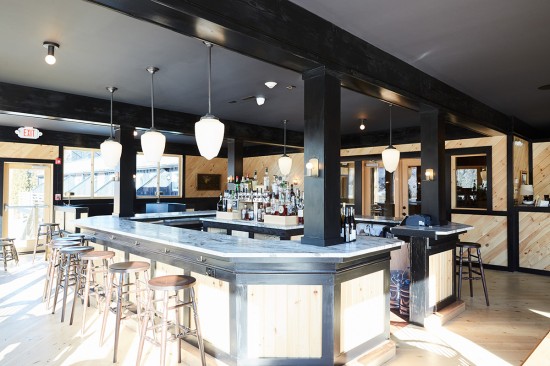 Day Two
Woodstock is the first stop for day two of this Catskills road trip. A 30-minute drive along the Kaaterskill Wild Forest, a 7,600-acre piece of beauty with waterfalls along the route, sets the tone for a morning of stress-free exploring the artsy hamlet. While one would expect to be inundated with musical flair throughout the town—it is the namesake of the most renowned music festival in America—a bit of historical knowledge will educate you: The Woodstock Festival did not actually take place in Woodstock; it happened in an open field about an hour away in Bethel, but we'll get there. In Woodstock, though, you will find a town focused on the arts. Woodstock is the home to the Woodstock Byrdcliffe Guild, a regional art center on 250 acres that was founded in 1902 as a utopian art colony. Today it is open for exhibits and programs. Make your way into the little town and grab a booth at Shindig for breakfast. Then stroll along the colorful streets and in and out of shops such as The Golden Notebook, where you can pick up the latest best-seller or, if you're lucky, catch a reading from one of the Pulitzer Prize-winning authors who tend to make their way to the independent bookstore for events such as the Woodstock Writers Festival that take place in the spring. Focusing on the arts, take a peek inside The Center for Photography at Woodstock or The Elena Zang Gallery.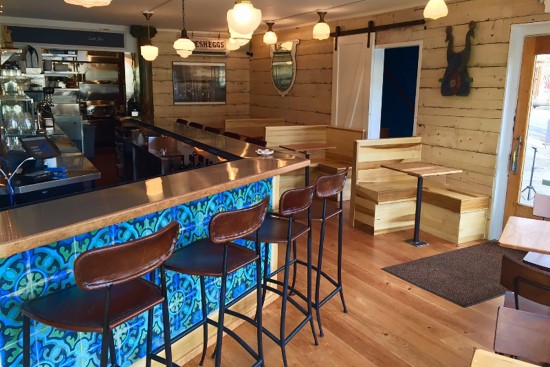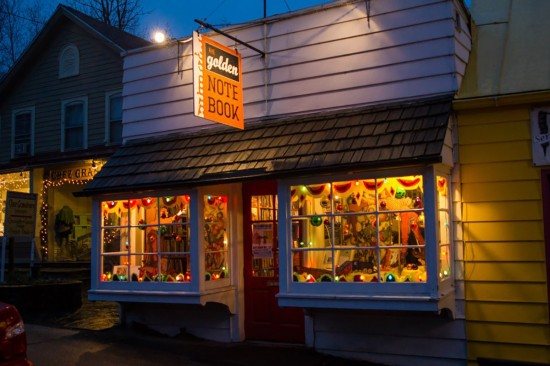 After being inspired by artists, it's time to take a drive to Opus 40 in Saugerties. Just a 10-minute drive along Route 212, get out and explore the sculpture by Harvey Fite. Made from a series of dry-stone ramps and platforms, this bluestone environmental sculpture stretches 6.5 acres and is a perfect blend of the elements of the earth.
Hop back in the car and head into the town of Saugerties. Grab a coffee at Love Bites, and browse the shelves of nearby Our Bookshop. Take a peek in Green, which focuses its offerings on mid-century furnishings and accessories. Then head out to the Saugerties Lighthouse at the mouth of Esopus Creek. Built in 1869, it is currently a bed-and-breakfast but is also a museum.
Take drive on U.S. Route 9 West and hop onto New York State Route 23 toward Hudson, the shopping destination for the day. Before crossing the Hudson River, take note that you're passing Thomas Cole's old home, now the Thomas Cole National Historic Site. If you have time, stop in to learn about the founder of the Hudson River School of American Painting. And as you cross the bridge, that orange castle-looking building that breaches the skyline on the hill is the Olana State Historic Site, the former home of Frederic Edwin Church, another major figure of the Hudson River School.
In the past few years the city of Hudson has seen a resurgence. For Northern Virginians, it may remind you of walking the streets of Old Town Alexandria—miles of historic streets, hundreds of historic buildings, antique shops, museums, cafes and a scenic waterfront—only this city veers more toward the hip side: Think Brooklyn. Clothing and accessory stores like De Marchin, fig and bella, R&P and White Rice are just some of the more contemporary vendors of goods, while Collective 23, Discipline Park, Five and Diamond and Hudson Vintage lay claim to the vintage shopper. For home goods make sure to stop in Finch, Dish and Hudson Home.
After an afternoon of shopping, food is a must. Stop in The Spotty Dog Books & Ale for a selection of local brews and some bar snacks. Or grab some casual fare at Bonfiglio & Bread. If you're going for more fine dining, head to Fish & Game. Named one of America's 100 Best Wine Restaurants by Wine Enthusiast and a James Beard Award winner for best chef in the northeast, it won't disappoint.
Day Three
If you're in the Catskills, visiting the spot of the Woodstock Music Festival is a must. For that you need to head to Bethel Woods Center for the Arts.
Before you head out on the almost two-hour journey, stop in Maggie's Krooked Café & Juice Bar in Tannersville for some breakfast. Then make sure to take in the flowing streams of Clear Creek as you drive along Frost Valley Road—soon you'll be headed back to cities and highways.
Bethel Woods Center for the Arts is the location of the famous three-day music festival that took place in farm fields, which have now been turned into a cultural organization and museum. Don't worry, the fields are still open, but now there is also a museum and performance center.
From here, head to Milford, Pennsylvania. The long drive home calls for some fitness, more specifically a 2.6-mile hike to The Knob and back. On this hike you'll be able to take in the aerial views atop Raymondskill Ridge, 390 feet up.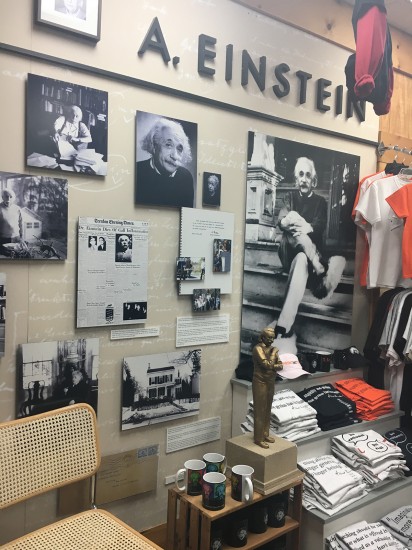 After your hike, it's time to relax some with a two-hour drive to Princeton, New Jersey. In this town, home to Ivy League Princeton University, you'll get into the hustle and bustle of college students amid the beautiful stone-clad campus. Duck into Small World Coffee, where you'll be surrounded by studious 20-somethings and professors. Grab a cup of coffee and some snacks or light fare for the ride home. Then stroll over to Landau, a third-generation, family-run apparel store that carries woolens, tweeds and Princeton merch. It is also the only museum focused on Albert Einstein with a dedicated corner in the back of the store. Einstein lived in Princeton from 1933 until his death in 1955, and Landau's owners wanted to pay homage to his brilliant mind. Here you'll be able to see photos of the genius and read some of his personal correspondence.
As you set your mind to return to the traffic-clogged streets of Northern Virginia, there is one more stop to make. With any road trip, there is always at least one quirky stop that makes for a good story. And in Grovers Mill, you will find yours.
Drive 15 minutes along Washington Road to a small community park in Grovers Mill, New Jersey. Park in the unassuming parking lot of Van Nest Park. You are now at the site where the aliens invaded on Oct. 30, 1938. Orson Welles' War of the Worlds broadcast over the airwaves on this night causing a bit of a ruckus in this small town. Though it was a fictional tale, some in the community heard the announcement that aliens had landed and took to the fields of Grovers Mill, shooting at a water tower. Today's dilapidated tower is barely visible, but this park holds a monument to the Halloween hoax.
As you leave this small town the highways for your journey home slowly bring you back from small country roads and forest-lined streets to four- or five-lane highways. Lights appear alongside the urban cities, and soon you find yourself back in the thick of city life, maybe already planning your next road trip.